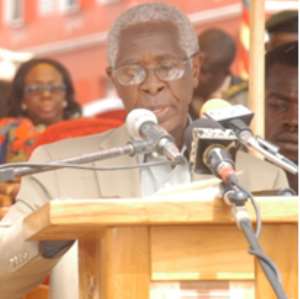 Accra, May 3, GNA - Ambassador Chris Kpodo, Deputy Minister for Foreign Affairs and Regional Integration has underscored the need to intensify intra –African trade, as a crucial driver to the quest for meaningful regional integration.
He stated that the choice of "Boosting intra-African trade" as the theme for the 2012 Africa Day celebration, as well as "Free Movement- A vehicle for boosting trade in the ECOWAS Region" for the ECOWAS Day, clearly signified how trade especially among African States was critical in the quest for meaningful regional integration.
Ambassador Kpodo, who made the statements when he launched the regional month in Accra on Wednesday said as evidenced by developments in China, Japan, Malaysia, India, south Korea and other east Asian economies, trade was undoubtedly a powerful engine for economic growth.
He bemoaned the fact that Africa had not benefitted much from international trade due to the low representation of its products on the international world market, with Africa's share in world trade declining from about six per cent some 25 year ago to about two per cent in 2010.
"At the regional level, intra-African trade has consistently remained low with member countries doing an average of 10 to 12 per cent of external trade amongst themselves. More than 80 per cent of African exports are still destined for markets outside the continent, with more than 50 per cent going to the EU and USA. This indicates that Africa must speed up its efforts at reversing the trend of minimal trade amongst member states", he stated.
Ambassador Kpodo noted that this lack of significant trade relations between African countries was a wake-up call on Africa to take action to increase current levels of intra-African trade in order to reduce dependence on international stocks, as well as to develop larger markets and create jobs for the people.
He said with the adoption of the ECOWAS protocols on the origin criteria, there is now free circulation of industrial goods which are registered under the ECOWAS Trade Liberation Scheme (ETLS). This he said was one of the measures being taken by ECOWAS towards the creation of a common market.
Ambassador Kpodo noted that 22 Ghanaian industrial products had been given approval to enjoy the benefits under the ETL scheme in the first quarter of 2012 alone.
"Ghana will continue to pursue the implementation of the ECOWAS trade liberalisation scheme which has over the years facilitated trade within the sub-region with its attendant benefits" he added.
He however indicated that to enhance trade within the sub-region, there was the need for effective transport infrastructure to be put in place since problems associated with mobility along interstate corridors both increased transport costs and travel time, thereby hampering trade.
ECOWAS, he said, had therefore initiated programmes to address some of these challenges such as West Africa Transport and Transit Facilitation Project from Tema to Paga, and the Abidjan-Lagos Trade and Transport Facilitation projects including the development of the coastal zones from Aflao to Elubo.
He added that three Joint-Border posts were to be established along Ghana's borders with neighbouring countries including Paga- (Ghana/Burkina Faso), Noepe – (Ghana/Togo) and Elubo – Ghana/Cote d'Ivoire.
He expressed the hope that activities lined-up for this year's celebration would provide further appreciation of these challenges and opportunities.
Mr Kweku Amoabeng Ortsin, Secretary of the Regional Integration Network of Non-State Actors (RINSA), commended the Foreign Affairs Ministry for its encouragement of civil society participation in the process of integration and pledged the network's support to the Ministry.
"We reckon that the effort to integrate our continent and our people is not just a business for officialdom alone, it is now time to see civil society in action. It is now time to put the grassroots people at the epicentre of the integration process so that we can truly transform from an ECOWAS of states to an ECOWAS of people" he stated.
The purpose of the "Regional Integration Month", which was begun in 2011, is to sensitize both stakeholders and the general public on the merits of maximum participation in and contribution to the process of regional integration to enable Ghana derive optimum benefit from its membership of the African Union and ECOWAS.
Activities lined up for this year's celebrations, which would include the AU Day on 25th May and ECOWAS Day on 28th May starting from May 18 to June 8, include discussions on GBC, a Mini Trade Fair, Sponsored Walk, Flag-Raising Ceremony, Mock AU Summit, Photo Exhibition, Market Interactions, Sensitization Workshops, Musical Concert and sensitization with participants from the ECOWAS Commission.
Participants at the launch urged the media to participate in the activities lined up in order to better educate and sensitize the public on regional integration and the responsibilities and benefits accruing from it.
GNA