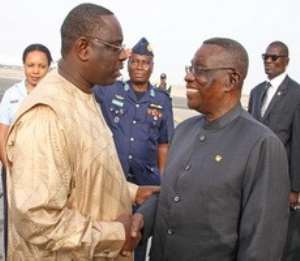 President John Evans Atta Mills has arrived in the Senegalese capital Dakar, where he joins colleague ECOWAS Heads of State for an emergency meeting.
High on the agenda, will be the current political atmosphere in both Mali and Guinea Bissau.
President Atta Mills was met on arrival by Senegal's newly sworn-in President, Macky Sall.
A statement by the presidency said after an impressive ceremony to welcome President Mills, both presidents held a one-on-one meeting where among other things, President Sall thanked President Mills for being in Senegal recently for the investiture ceremony.
Beyond the bigger ECOWAS agenda, President Mills and President Sall pledged to deepen the fraternal bonds existing between Ghana and Senegal; bonds that are rooted in the period of Osagyefo Dr. Kwame Nkrumah and President Leopold Sedar Senghor.
President Mills is expected to return home today, Thursday, May 03, 2012.