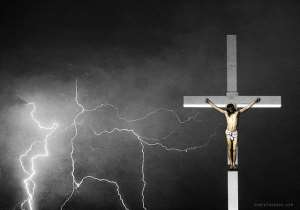 Not long ago, Christendom, the world over, celebrated an annual event on its calendar, called Easter (Ishtar, Astarte?). Do the words Ishtar or Astarte ring bells in your ears? Never mind if they do not. We may find time in a future article to talk about Easter, Ishtar and Astarte.
Easter is regarded as the commemoration of the resurrection of Jesus Christ. This year, 2012 AD, this commemoration fell on Sunday 8th April. But of course, it is no news that this day fell on a Sunday; for, ever since the inception of Easter in the Second Century, this event has always been celebrated on Sunday.
For all these many years, the celebrants of this occasion have never questioned or thoroughly investigated to know, the history behind their faith in this event. Year in, year out, they are happy to take part in whatever programs and festivities their leaders, commonly called Clergy, draw up for the occasion, without asking any questions.
It is significant to note that, First Century Christians, led by the apostles of Jesus Christ, never celebrated Easter. This was because they never knew about it in any of their two Constitution Documents of the Old and New Testaments; and yet these are the surest of saints, whose complete obedience to God will cause them to be in Heaven to spend Eternity.
And so, we must ask ourselves what benefits we derive, which the First Century adherents to the Christian Faith did not, from the celebration of Easter, year in, year out, for close to two millennia.
Eighteen more years from now, mankind will be celebrating the 2000th anniversary of the 30 AD Ascension to Heaven of the Lord Jesus Christ. Did you know that this anniversary was so close? If you did, what are your preparations to be part of such a great day in God's secret calendar, dead or alive?
Before I delve into my task of delivering on my assignment, on the subject matter of the above title to my article, I like to make some observations about the Christian Faith, Christianity and Christendom.
It is commonly assumed that Christianity, as we know it to be today, is the same as the Christian Faith that was lived and championed by the men who were chosen by God, to walk and talk, for as many as four years, with the Savior.
But it will be a very dangerous assumption for any serious-minded salvation-seeker to make, by equating the Christian Faith of the immediate post-Ascension era to what is termed Christianity today.
Christianity today, has creeds, doctrines, rituals, Clergy, Laity, visible cathedrals, temples, chapels, dress codes for its Clergy, feast-days unauthorized by the Word of God and many other peculiar characteristics which the pure Christian Faith of First Century adherents never had or even heard about.
In a big contrast, whereas the Christian Faith prescribes a unique formula by which any salvation-seeker could secure membership into the invisible, spiritual body of its adherents, called the Body of Jesus Christ (or the Church), as being through repentance from sin and baptism, for the remission of sins and the gift of the Holy Spirit (Acts 2: 38-39), most adherents to Christianity, on the other hand, erroneously seek membership to this Body through reciting special prayers.
Again, whereas the Christian Faith teaches and champions a unique lifestyle, patterned strictly after that of the Savior, Christianity is a loose-faith religion: a conglomeration of all manner of creeds, doctrines, dogma, beliefs and lifestyles, practiced by an innumerable number of differently-informed denominations.
Furthermore, whereas the Christian Faith is one that establishes all its adherents into one living organism, the spiritual Body of Christ, Christianity on the other hand, is a heterogeneous organization of no semblance to any organism.
Obviously therefore, Christendom is the jurisdiction within which Christianity is professed and promoted. This is to say that, Christendom is the visible spatial domain, occupied by professors of Christianity.
The adherents of the Christian Faith, however, do not possess spatial domains, since its members are citizens of an invisible kingdom (John 18: 36). Adherents of the Christian Faith may not even know themselves assuredly, since it is only God who knows those who are His. (cf. Second Timothy 2: 19).
It is important for me that, in reading this article, the words –Christianity, Christendom and the Christian Faith– be understood within the contexts of my above definitions, so my expressions and intentions with regards to their usage are not misconstrued, misunderstood, or considered to be the same in meaning, as taught by mainline-theologians.
As I take-off now, in executing my task of proving to lovers of the Savior and seekers of God's salvation the camouflaged misinformation in the crucifixion-resurrection story about the Savior, as put out by theologians for a period close to two millennia, let me, first of all, say a few things in correction to some misunderstandings of the Sabbath.
For many people, the Sabbath Day always falls on the last day of the week, Saturday (or is Saturday indeed Saturn Day?). But it is not wholly correct, that the Sabbath Day of God always falls on Saturday.
And yet it has been the thinking of many people who subscribe to the tenets of Christianity, for ages, that Sabbath Day is always Saturday. Obviously, it is not the Christian Faith that has taught its adherents this deception, but Christianity, led by its theological thinkers and Clergy.
But of course, the last day of every week is Saturday. And since in every week, the last day is fixed by God as His compulsory day of rest, for all people who love to obey and serve Him, according to His instructions in the Creation account and in His Ten Commandments, the weekly Sabbath Day always falls on the last day of the week (Saturday).
Since the weekly Sabbath Day must always fall on the last day of the week, it always falls on a fixed day (Saturday), but of no fixed date. The weekly Sabbath Day can therefore fall on any date of the days forming the yearly calendar.
This fact, we must keep in mind as we work toward revealing the falsehood in the Friday-crucifixion-Sunday-resurrection story of the Clergy, which has been pushed down the throats of salvation-seekers, for close to two millennia.
Besides the establishment of a weekly Sabbath Day of a fixed day but variable date, God also instituted other Sabbath Days, compulsory for the observance of His people –both biological and spiritual Israelites. These usually had fixed dates (dates, I say) but were of variable days within the seven-day week.
Let us go to the first month of the Hebrew calendar, to study the very first of such fixed-date Sabbaths. The first month of the Hebrew calendar is Nisan, which is also known as Abib. This month is host to the first fixed date Sabbath Day.
This first fixed date Sabbath Day is the first day following the Passover Day. We must note that, as important as Passover Day is, being the commemoration of the deliverance of Israel from bondage in Egypt, it is not a Sabbath Day. (cf. Exodus 12: 14, Leviticus 23: 5, Numbers 29: 16).
This is because God does not prohibit man and his beasts of burden from doing servile work on Passover Day. That not withstanding, Passover Day is "an high day" and from the Gospel narratives, was always celebrated with an accorded status, of a fixed date Sabbath Day. (cf. John 18: 28, 19: 14, 31).
Now, because Passover must always be celebrated on the 14th Nisan of the Hebrew calendar, the first fixed date Sabbath Day is 15th Nisan. Nisan 15th is the first day of observing the Feast of Unleavened Bread, which feast must run for seven days, up to its last day on Nisan 21st.
Both Nisan 15th and 21st are days of convocation for Israel in which God instructs that no servile work be done. These two days are therefore fixed date Sabbath Days, which must however be understood to fall on variable days.
One interesting thing is that, since every Sabbath Day is always preceded by a time of preparation, Passover Day always becomes a Preparation Day for this first day of the Feast of Unleavened Bread, the 15th Nisan. This interesting fact, we must keep in mind as we read further, this article.
After the two fixed date Sabbaths of 15th and 21st Nisan, we find the next feast-day Sabbath Day in the third month of Sivan, of the Hebrew calendar. This is the well-known Feast of Pentecost, which is also known as the Feast of Weeks, or Harvests, or First-fruits. (---continuing part to this article is in Part Two: Soon to be published).
Chris Bapuohyele is a bible-expositor and author of the book: BEWARE OF THIS FALSE DOCTRINE… His email address is: [email protected]