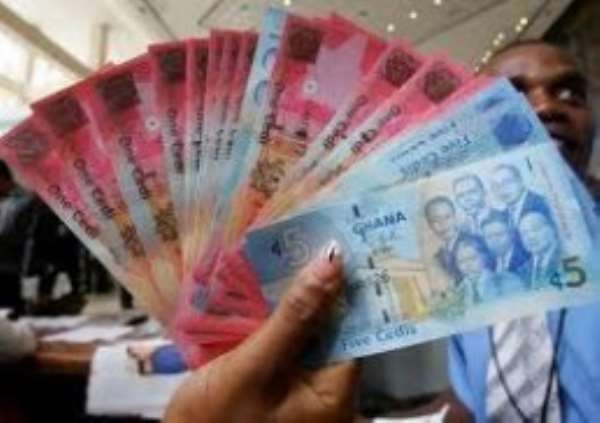 The Bank of Ghana (BoG) has taken measures to prevent further depreciation of the cedi against the major international currencies.
As part of the measures, the bank has reintroduced the Bank of Ghana treasury bills in tenors of 30 days, 60 days and 270 days with the intent to support the monetary operations of the bank and also provide additional avenues for cedi investments.
Furthermore, the BoG has introduced a revision in the application of the statutory reserve requirement of banks where banks will no longer hold their reserves in different currencies.
According to a press statement issued by the BoG, the banks would now be required to maintain the mandatory nine per cent reserve requirement on domestic and foreign deposit liabilities in Ghana cedis only.
The BoG has also made provision for the banks to provide 100 per cent cedi cover for their accounts with corresponding banks with the Bank of Ghana.
The measures take effect from Tuesday, May 1, 2012.
Presently, the value of the Ghana cedi against the US dollar stands at GH¢1.75 at the interbank exchange rate.
The Ghana cedi was introduced on July 1, 2007 at a rate equal to 10,000 old cedis. From the beginning of 1996 to the end of 2009, the cedi depreciated by over 90 per cent against the US dollar.
Meanwhile, Finance Minister, Dr. Kwabena Duffuor, has described the current fall of the cedi to the dollar as a departure from its normal performance.
Commenting on the free fall of the cedi in Accra Monday, Dr Duffuor said the government was doing all it could to surmount the situation in the next few days.
The minister said the government would not over-spend during this year's election period, as was being speculated.
According to him, the current depreciation of the cedi to the dollar was an artificial problem which could be solved.
He said the country had, over the years, done well in controlling the fall of the cedi, noting that the government had laid a strong foundation for the economy and expected that the current problem would be controlled.