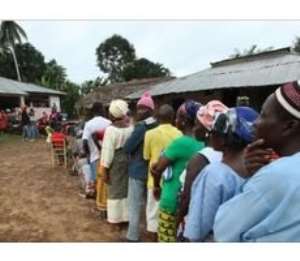 The Secretary-General of the Trades Union Congress (TUC), Mr Kofi Asamoah, has entreated all Ghanaians to vote for candidates who have great ideas about creating jobs in the upcoming elections.
He urged the citizens to focus on candidates whose ideas will improve incomes and give access to housing, education, health, electricity, water and sanitation.
The TUC boss was speaking during this year's May Day celebrations held at Sunyani in the Brong Ahafo Region.
He stated: "We demand of the competing parties and their presidential candidates serious debates over the main issues of our times; a clear vision of the future of Ghana and concrete policy alternatives that have the capacity to transform our economy and lift our people out of the mass poverty to a level where the average Ghanaian can identify with the middle income status of our country."
He urged Ghanaians to exhibit maturity, fairness and transparency in the electoral process, saying it is the collective responsibility of all to ensure the peacefulness of the December polls.
Mr Kofi Asamoah said the workers of Ghana and their leadership are prepared to play their part in ensuring a violent-free election but stressed that the onus lies on government, security agencies, political parties and the Electoral Commission to maintain peace.
He pointed out again, that President John Evans Atta Mills has the "singular responsibility and honour to see Ghana through this election peacefully."
Mr Asamoah challenged the media to exercise circumspection in their reportage and highlight the important issues that directly affect the livelihood of people on the national agenda while helping to banish the politics of trivialities.
He also called on the security agencies, especially the police and judiciary, to exhibit professionalism and eschew favoritism and bias in the discharge of their duties.
The TUC boss also advised the Electoral Commission to be faithful to their constitutional mandate and jealously guard their independence.