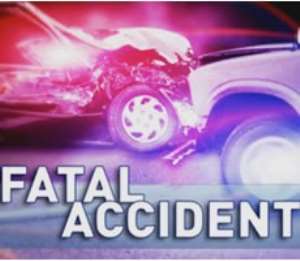 Two people have been confirmed dead in an accident at the Mallam junction on the George Walker Bush motorway, Tuesday.
A trailer carrying toiletries tipped off the highest point of intersection unto the side of the road.
The cause of the accident is yet unknown but the Commanding Officer in charge of the Odorkor MTTU, ASP Abdulai Mumuni said the driver of the trailer might have been overspeeding.
Joy News reporter Michaela Anderson who visited the scene of the accident said the driver and his mate died instantly.
The truck bearing a Nigerian number plate was mangled beyond recognition.
The bodies of the deceased persons have been sent to the Police Hospital morgue.