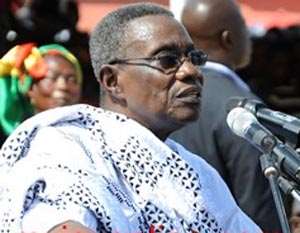 The elections that brought David Cameron to the British Prime ministerial position witnessed a development which, if in any African country, would have resulted in a serious confusion and possible civil strife.
Polls were supposed to close at 5pm but what normally happens is that, if you are in the queue before the closing time, it is fair to be given the opportunity to cast your vote as it pertains here in Ghana. In Britain however, those who found themselves in the queue well before 5pm were not allowed to vote since the law says 'polls close at 5pm'.
In the end, people went home after a little grumble and for the first time in British history, two political parties, Labour and Liberal Democrats who are ideologically poles apart, ended up forming a coalition government. The British people have since rallied behind current leaders of this coalition and the nation is moving on.
In the presidential contest between George Bush Jnr and Robert Gore, there was so much controversy with voting processes in California that the final results of the elections and declaration of a president had to be made by a Supreme Court judge. Here again, the people of America rallied behind their chosen president, and for a period of 8years, supported and respected him as their leader.
As human beings with blood running through our veins, we all have certain peculiarities that are fundamental to all of us and this is why though nations as America and Britain have practised democracy for centuries, they still do encounter some minor problems during elections. However, what actually makes the difference here is the level of sincerity in what prevails in societies as America and Britain. These societies are not fortunate enough to be blessed with political hermaphrodites, self-appointed pseudo-socialist bigots, shameless tongue-twisting thieves and rabid praise singers who crawl on their stomachs.
Ghana Is A Unitary State
Ghana is a unitary circular state with multi-party democracy as a form of governance. Every citizen has the right to live anywhere within the confines of our borders without hindrance, if it is done according to law as captured in our statutes. A law-abiding Ghanaian- even non-Ghanaians who have the requisite permit to live in Ghana- is not supposed to be hindered in any way by anybody, as he/she goes about his/her lawful business.
The on-going registration exercise is governed by rules made by the EC which we as citizens must abide by. To qualify as a voter, a person needs to be a Ghanaian citizen, 18 years and above, either permanent or ordinary resident of a given electoral area, and must be of sound mind; and as law-abiding citizens, we are all supposed to abide by these rules.
The first day of the exercise experienced a lot of setbacks as a result of both technical and human shortfalls. I actually had the opportunity to talk about those problems on Choice FM's current affairs programme 'Hard Facts'. However, we never lost hope in the process and rather called on Ghanaians to remain calm and carry on with the process since those hiccups were to be expected when undertaking a novelty of this magnitude.
But as it has always been the case in our part of the world, instead of learning from our shortfalls and making progression in our endeavours, we often end up committing even worse mistakes and messing ourselves up big time.
NDC Bastardized The EC In 2008
In 2008, then Atta Mills-led oppositionNDCcreated the impression that Ghana was a failed state and that since they were saviors sent from above to redeem us, an electoral defeat for them wasn't going to be tolerated. Every measure put in place by then administration in preparation for the elections was seriously bastardized by NDC and described as attempts by Kufuor to rig the elections. I remember that government, in an attempt to ensure transparency in procurement of materials for EC, suggested that a committee be set up to oversee the process but the NDC quickly jumped into the fray and accused the government of trying to interfere with the EC's work, with a subtle intent to manipulate the electoral system.
Then came the issue of CD copies of voters' register given to the political parties. Without taking their time to critically study the contents, members of NDC quickly jumped through the roof with completely baseless allegations against Kufuor and Dr. Afari-Gyan of colluding to rig the elections.
Only Ghosts Can Be Found In A/R
This NDC accusation gained so much currency within the party that their flag-bearer, Atta Mills, also jumped into the fray with his infamous pronouncements at a mini rally in Cape Coast to the effect that 'EC must investigate the sudden over-whelming upward increase of electoral figures in 13 constituencies in the Ashanti Region, just 2 years after the 2004 elections'. Atta Mills said, 'It is very ridiculous for the figures to change so tremendously in that particular region just 2 years after general elections' and went on the quiz, 'are those living there manufacturing human beings or ghost from elsewhere?'(front page, The Chronical.3/3/8)
The likes of Tony Aidoo, Kwesi Pratt, A.B.A Fuseini, Raymond Archer and Alhaji Bature used the studios of Ghana's Radio Rwanda (Radio Gold) to propagate falsehood that NPP is an Ashanti party and because they wanted to perpetuate the dominance of that particular ethnic group in our nation's governance, a scheme had been put in place to suppress the rest of Ghanaians.
Again, the unfortunate demise of Ya Na (the overlord of Dagbon people) was also turned into political football by this very same group of political hermaphrodites. Those were the days Kwesi Pratt and his CJA cohort were embarking on useless streets demonstrations without recourse to what the constitution enjoins us to do before embarking on such activities, and daring the police to arrest them if they could.
These persons are now enjoying state largesse as ministers while the senior ones amongst them are being showered with ultra-modern printing houses and others.
Justice Abeeku Newton-Offei
E-mail: [email protected]