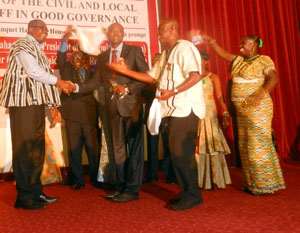 The Chief Director of the Obuasi Municipal Assembly over the weekend emerged as the Best Civil and Local Government Staff Association of Ghana (CLOGSAG).
Kofi Dwomoh Asubonteng received a brand new KIA Cerato car, plaque, laptop and a cell phone for emerging the best activist of the Association among 76 others who exhibited commitment in championing the cause of CLOGSAG through participation in activities.
On Saturday, 26 people who were referred to as activists of CLOGSAG were recognized and honoured at the State Banquet Hall while the other 50 would be rewarded in the 10 regions at a later event.
Ebenezer Obli-Laryea of the Controller and Accountant General's Department, who emerged second runner up, took home a set of dinning furniture, double door fridge, cell phone, laptop and a plague while Andres Korang Takyi also received living room furniture, home theatre cell phone, laptop and a plaque.
Former President Agyekum Kufuor, in a speech read on his behalf as the guest speaker for the awards night, noted that the civil and local government services play a pivotal role in all aspects of the nation's governance and development aspirations and therefore urged the workers to execute their duties in a professional, efficient and disciplined manner.
Advertisement
'The civil service and local government as institutions are indispensable to the government's efforts in achieving political goals in the country's economic and social development.'
He said, 'As you are aware corruption is a canker that continues to erode genuine gains made by governments to improve the lot of the people, especially the poor and the vulnerable'
Isaac Bampo Addo, Executive Secretary of CLOGSAG, expressed worry over the implementation of the single spine pay policy structure by the Fair Wages and Salaries Commission (FWSC), saying 'after two years, the fair wages is yet to come out with clear guidelines.'
Vice President John Dramani Mahama, who was represented by the Minister of Local Government and Rural Development, appealed to members of CLOGSAG to act as agents of peace ahead of the December poll elections.
By Emelia Ennin Abbey