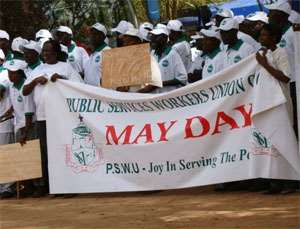 They have endured the insincerity of politicians over the years about a nirvana which is nowhere in sight,  yet Ghanaian workers continue to labour in rain or sunshine, receiving incommensurate pay packets for their sweat so that the engine of society will continue to run.
The average Ghanaian worker is the most stressed under the prevailing harsh economic circumstances even as the 'Better Ghana' ruse is continuously dangled in front of them. Some have died out of deprivation and want after many years of laboring for God and country, constantly hoping things would improve until the ultimate end.
When Ghanaian workers claim they are passing through the most challenging times in the country's post-independence history, they are not being economic with the truth.
Their health bills, the education of their kids and dependent family members among other challenges haunt them on a daily basis.
Their real incomes continue to depreciate in value as the local currency loses the fight to cope with the power of the convertible currencies on the international market. Various policy interventions have been rolled out to ostensibly arrest the deteriorating economic situation but these have invariably fizzled out in the face of the realities on the ground.
Today, we are fortunate to be witnessing another May Day, a day set aside in some parts of the world to celebrate the sacrifice being made by workers under the rather difficult conditions, mostly brought about by bad governance.
Always at the receiving end of bad governance with almost no voice to express their predicament, workers here have become the favourites of politicians seeking votes.
Such politicians swarm the labour turf with all manner of promises, most of them unfeasible.
As they march in front of the dais, their smiles only veneer their pain and regret as they continue to hope that the 'better Ghana' refrain gets a touch of sincerity.
We doff our hats, sincerely, for the patience of the Ghanaian worker as he weathers the storm of bad governance which has worsened his plight in a fast moving world.
We call on those at the helm to consider their promises to better their lot, pledges, which were captured in manifestoes yet remain shamefully unfulfilled.
Today is another day on which so-called expressions of commitment towards the welfare of workers will be made gleefully, especially against the backdrop of the approaching polls.
As for us, we can only ask the Ghanaian worker to reflect on his situation and re-align his political inclination when voting in December.
Happy May Day to the gallant workers of Ghana.