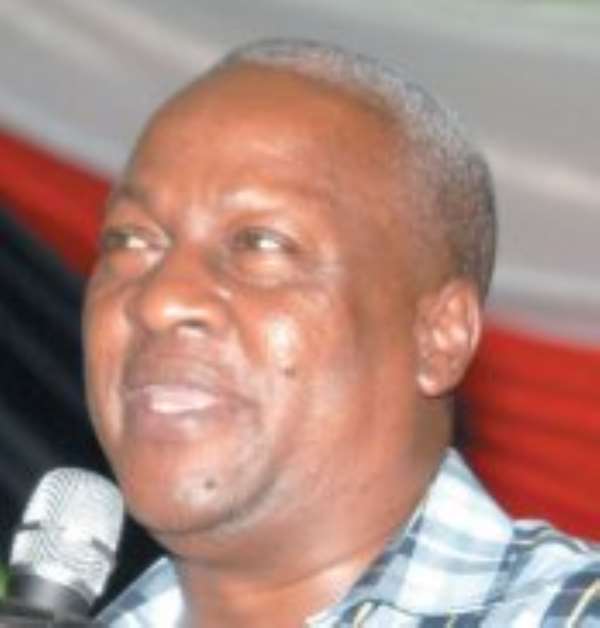 Vice President John Mahama
Vice President John Mahama Ghana can now have a uniformed street naming and house numbering across the country following the launch of a national policy document and operational guidelines on street naming and property address system.
The policy document is to provide Metropolitan, Municipal and District Assemblies (MMDAs) with the policy framework of implementing
street naming and house numbering.
Launching the document at a durbar in Kumasi last Saturday, the Vice-President said some districts had already started some form of street naming and house numbering while others had not.
He said with the launch of the policy framework, all the districts that had started the exercise would have to adjust to follow the new guidelines to ensure uniformity in the address system.
Mr Mahama said the country had poor street naming and house numbering, which made it difficult for people, especially foreigners, to locate places.
He, therefore, charged Metropolitan, Municipal and District Chief Executives to kick-start the process for the addressing the system in their respective areas.
"With the new policy document MMDAs no longer have an excuse for us to go looking for places and we cannot see them," he stressed.
The Vice-President said an improved address system would facilitate tax collection by the Internal Revenue Service (IRS), and urged the public to co-operate with the authorities during the exercise.
He said the launch of the document was in fulfilment of President John Evans Atta Mills's campaign promise to improve the address system in the country.
Mr Mahama stressed the need for the cities to have digital maps that could be monitored and identified with the use of computerised systems.
The Minister of Local Government and Rural Development, Mr Samuel Ofosu-Ampofo, said the street naming and house numbering had substantial benefits to the people and the country's economy.
For instance, he said, utility companies could easily locate their breakdown equipment and assist in the submission of mails and the movement of ambulance and fire tenders across the country.
Mr Ofosu-Ampofo said the street naming and house numbering would make cities and towns more user-friendly and help in budget estimates and the collection of taxes.
graphic.com.gh