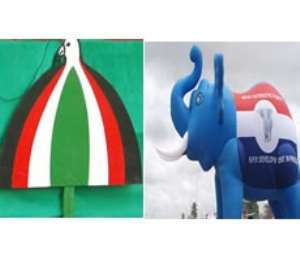 A former Deputy Chairman of the Electoral Commission in charge of Finance and Administration, David Kanga, is blaming the confusion that has rocked the ongoing biometric registration exercise on mistrust among political parties.
He said it is inaccurate to attribute the problems in the ongoing registration exercise to the definition of who is an ordinary residence.
NPP and NDC functionaries have been on the collision course especially in the Odododioodoo constituency, following alleged reports that NPP supporters were being prevented from registering.
Similar incidents have been reported in other parts of the country.
But speaking to Joy News after an IEA sponsored talks with the two main political parties - New Patriotic Party and National Democratic Congress-, David Kanga said the refusal of party agents to use the complaints forms at the various centres is unfortunate.
"It is suspicion and mistrust that is bringing about the problems…it is not the definition of ordinary residence… What is causing the problem is the suspicion and the mistrust. The people believe that some people are bussing people from other places," he maintained.