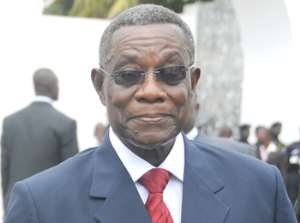 "Mills Must Reject 'Asomdwehene' Title Or Face God's Wrath"
What of 'OTUMFUOR' Osei Tutu II?
By Alhaji Bature Iddrisu
As the nation gears up to the presidential and parliamentary elections in December this year Ghanaians will begin to be bombarded with weird and ludicrous statements and hypothesis by so-called 'leaders' of our society all in an attempt to sway potential voters to their party or candidate of preference.
One such example is coming from the bishop of the Obuasi Diocese of the Methodist Church, the Rt. Rev Stephen R. Bosomtwi-Ayensu who is reported to have warned President Mills to reject the name 'Asomdwehene' or face the wrath of God.
According to Rt Rev Bosomtwi-Ayensu, the name, which means "King of Peace" is the preserved of Christ and therefore he is pleading with Ghanaians who continuously refer to the President as 'Asomdwehene' to stop or will be subjecting him to God's wrath.
"The title belongs to our Lord and God and if any man tries to use this title on himself then he is being blasphemous". Rt. Rev. Bosomtwi-Ayensu told XYZ News.
Acknowledging though that he is aware President Mills has never appropriated to himself the title; 'Asomdwehene', he nevertheless has a problem with people who refer to him as such, insisting they are doing the President a great disservice.
"I am just advising Ghanaians not to incur the wrath of God on our President. He must reject the name and have his peace because he is not in contention with anybody". The man of God said.
The Methodist Bishop then cited the brutal murder of former Libyan strongman, Muammar Gaddafi by rebels "because he referred to himself as 'King of Kings'".
"Look at Gaddafi, he called himself King of Kings and his end was not good". He arrogantly stated.
The Rt. Rev Stephen R. Bosomtwi-Ayensu in his warp logic does not recognize that the cruel killing of Muammar Gaddafi was as a result of the stubborn leader's crave to continually cling on to power even if it is against the wishes of majority of his people?
Advertisement
If we are also to believe in the distorted hypothesis of the Obuasi Methodist Bishop, then the Ashanti King, Otumfuor Nana Osei Tutu II must be the one who should, as a matter of urgency; drop his title, OTUMFUOR, which by far is greater, (in terms of prestige) than 'Asomdwehene'.
Otumfuor, according to our Ashanti compatriots means; Lord of Lords, King of Kings and indeed, Alpha and Omega. The tile Otumfuor we are also told is reserved for the highest king of Ashantis.
The general Akan tribe in Ghana of which Rt. Rev Stephen R. Bosomtwi-Ayensu may be one, refers to God Almighty as; OTUMFUOR NYAME. What does the bishop of the Obuasi Diocese of the Methodist Church say about that too?
In conclusion, Rt. Rev Stephen R. Bosomtwi-Ayensu should refresh his memory with Matthew 5:9 "Blessed are the peacemakers, for they shall be called sons of God. And also Blessed are the peacemakers - Those who strive to prevent contention, strife, and war; who use their influence to reconcile opposing parties, and to prevent lawsuits and hostilities in families and neighborhoods. Every man may do something of this; and no man is more like God than he who does it. There ought not to be unlawful and officious interference in that which is none of our business; but without any danger of acquiring this character, every man has many opportunities of reconciling opposing parties. Friends, neighbors, people of influence, lawyers, physicians, ministers of the gospel, may do much to promote peace. And it should be taken in hand in the beginning. "The beginning of strife," says Solomon "is like the letting out of water." "An ounce of prevention," says the English proverb, "is worth a pound of cure." Long and most deadly quarrels might often be prevented by a little kind interference in the beginning.
Children of God - See the notes at Matthew 1:1. Those who resemble God, or who manifest a spirit like his. He is the Author of peace 1 Corinthians 14:33; and all those who endeavor to promote peace are like Him, and are worthy to be called his children.
With additional files from Kobina Welsing/RadioXYZonline.com