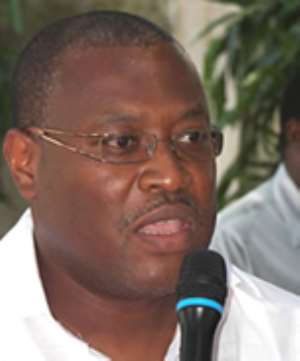 For somebody who staunchly and shamelessly backed Anlo-Mafia butchers like Messrs. Jeremiah John Rawlings and Kojo Tsikata in their bloody quest to "Ewenizing" and dominating the Ghanaian political landscape for two decades to be bitterly accusing the presidential candidate of the New Patriotic Party (NPP) of incendiary and violent political rhetoric constitutes nothing short of what modern-day Jews call "chutzpah" (See "Nana Addo Should Apologize for 'All-Die-Be-Die' mantra – Alex Segbefia" Ghanaweb.com 4/28/12).
By the way, what justification could the Deputy Chief of Staff for President John Evans Atta-Mills offer for the primitive and genocidal ethnic cleansing that was the unconscionable abduction and brutal assassination of the three Akan Supreme Court judges and the retired Ghana Army major? Or, like the rest of his ilk, Mr. Alexander Segbefia luridly supposes that Ghanaians can be easily intimidated into "protective amnesia," in much the same way that Messrs. Rawlings and Tsikata were able to hold some 20 million Ghanaians hostage, for two decades, in what sarcastically became known as "the culture of silence"?
Addressing some obviously innocent and captive members of the so-called Tertiary Education Institution Network of the National Democratic Congress, recently, the Atta-Mills staff-lieutenant was reported to have rather unwisely and imperiously charged Nana Akufo-Addo and the main opposition New Patriotic Party (NPP) with responsibility for "every act of bloodshed that may occur in Ghana ahead of" Election 2012.
In other words, what Mr. Segbefia is hereby implying is that the recent severe beating up of the NPP parliamentary candidate for Ablekuma-South, Ms. Ursula Owusu, in the notoriously volatile Odododiodio Constituency, by known hired hoodlums of the Mills-Mahama government, must be squarely blamed on Nana Akufo-Addo and the NPP leaders, members, supporters and sympathizers' decision not to lie on their backs, spread-eagle style, and allow the Mills-Mahama posse to politically sodomize them with criminal abandon, as prevailed in both the lead-up to Election 2008 and in the wake of the same.
And so maybe somebody ought to remind Mr. Segbefia that nobody was chanting "All-Die-Be-Die" in December 2008, when hired goons of the NDC nearly lynched Dr. Sammy Ohene, head of the Psychiatry Department at the University of Ghana, Legon, in the Volta regional township of Abutia, which also, incidentally, happens to be the hometown of my father-in-law, Mr. Richard Mensah-Nyanyo. It may also be painfully recalled that at the time of his savage mauling by hired NDC thugs, Dr. Ohene, who also happens to be the younger brother of renowned journalist, editor and former Kufuor-cabinet member Ms. Elizabeth Ohene, had been formally certified by the NPP to monitor voting activities in the Abutia Constituency.
And, of course, as pointed out back then, it clearly appeared that Dr. Ohene, whose father is a past headmaster of the Abuakwa State College (ABUSCO), according to a reliable source, had been brutally assaulted because of his surname, party affiliation and Ewe-Akan extraction. The grim irony here, though, is that the alleged mastermind behind this criminal act of mayhem, which culminated with Dr. Ohene's loss of vision in one eye, was Ms. Akua Sena Dansua, a maternal sister of the Ohenes!
Today, Ms. Dansua occupies the enviable portfolio of Minister of Tourism, a post she had publicly deemed and decried to be punitive at the time of her reshuffle-transfer from the Sports Ministry. And so, perhaps, Mr. Segbefia may do well to advise Ms. Dansua and President Atta-Mills to designate Dr. Ohene's blinded eye as an international human tourist attraction, in order to truthfully demonstrate to the civilized world what sort of "peaceful democracy" our hallowed prince-of-peace and his so-called National Democratic Congress government have been promoting in West Africa's model democracy.
Indeed, I don't know what cross-section of the Ghanaian populace Mr. Segbefia has been polling for him to be able to smugly state that most of his countrymen and women consider the "All-Die-Be-Die" slogan of the New Patriotic Party to be insufferably violent. But we can boldly, truthfully and confidently report to our legion global audience that Ghanaians are far more interested in having the alleged NDC-hired assassins of Mr. Sheriff Mohammed, the NPP Youth-Wing constituency secretary, promptly arrested and vigorously prosecuted, than being in any way dismayed by the spirited slogan of an indisputably responsible people determined to make justice and democratic governance function in the model African democracy that is Fourth-Republican Ghana.
In sum, if anybody needs to be publicly called upon to render a profuse apology to Ghanaian citizens and voters, it is definitely the scandalously imperious Mr. Alexander Segbefia who cavalierly presumes to step out of his decidedly minor league, in order to impugn the personal integrity and enviable political track record of Nana Akufo-Addo.
* Kwame Okoampa-Ahoofe, Jr., Ph.D., is Associate Professor of English, Journalism and Creative Writing at Nassau Community College of the State University of New York, Garden City. He is Director of The Sintim-Aboagye Center for Politics and Culture and author of "Danquah v. Nkrumah: In the Words of Mahoney." E-mail: [email protected]