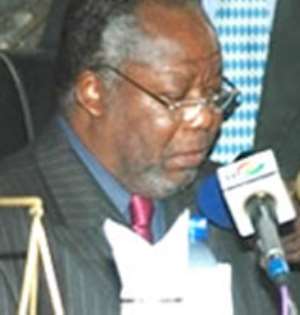 "A former Supreme Court Judge, Justice F.Y. Kpegah, is in no mood to defend the John Evans Atta Mills government… "'The President has surrounded himself with law students,' said Kpegah, "' instead of relying on the wise counsel of people like us. That is why the government is having problems'" (Ghanaweb April 24, 2012).
They are not only law students
Cacophonous law students
They are also roaring boys
Raw Keta School Boys
Ballooned by Awonoor Doctrine
Ballooned by Kpegah Laws
Doctrines of Supremacy
Laws of Victimhood
Ah! Atta's bane
In the Castle
Is their gain
Yes, Atta is being drowned
Drowned by deflated students
Drowned by dumb law students
Drowned by cacophonous boys
Ah! But they belong to KPEGAH
All belong to Kpegah's worldview
Immersed in Awonoor Doctrine
Yes, they are law students
But they are something else
Like day and night
Contrasts lost on Kpegah
Ah! They are the boys
The boys that JJ never critiques
The boys nursed by Awonoor
They are all Keta School Boys
They have entombed Mills
Entombed in "Tribalism"
Competing with Nationalism
They are all Keta School Boys
They have entombed Mills
They are all and be all
Aides
Cooks
Drivers
Deputies
Secretaries
Chief of Staff
Spokespersons
Like the sun in the morning
Kpegah the enduring bigot
Like the dimmed sun
Kpegah didn't shine well
Kpegah didn't speak well
He spoke half-truths
He unfurled one side
Yes, Atta is surrounded
Atta is entombed
Atta is being sabotaged
Atta has been silenced
By law students
By young boys
By inexperienced boys
Bu they are mostly the KPEGAHS
They belong to what Kpegah loves
They come from Awoonor-Kpegah
The worldview of Awonoor-Kpegah
The last king
Simpa Mills
Konongo Kaya
Atta Mortuary
Who born dog
Atta the Snail
Ah! Fante Mills
He who can swim
Atta is coming ashore
Atta is being held back
By a shoal of Keta Boys
Holding Awonoor's net
Net of victimhood of kinship
Net of ideology of supremacy
Atta is swimming hard
Atta is being held back
By chiefs
They are chiefs
They are Groups
They are Aides
Chiefs of Staff
Spokespersons
Atta is swimming
Swimming adrift
With Keta School Boys
Swimming against currents
Mills forward –strokes
Has become his back-strokes
Mills has failed
Mills is the son
Sun that fails to rise
Ah! Mills is lost
Falling headlong
Straddling precipice
Adrift
Sailing
Wandering
Meandering
In the Keta Sea
Full of Boys
*Akadu Ntiriwa Mensema, Ph. D., is a nationalist Denkyira beauty. She is a trained oral historian cum sociologist and Professor in the USA. She lives in Pennsylvania with her great mentor and teaches Africa-area studies at a college in Maryland. In her pastime, she writes what critics have called "populist hyperbolic, satirical" poetry. She can be reached at [email protected]
**My poems and essays on Ghanaweb and elsewhere must not be reproduced in full or in part for any academic or scholarly work without my written permission.