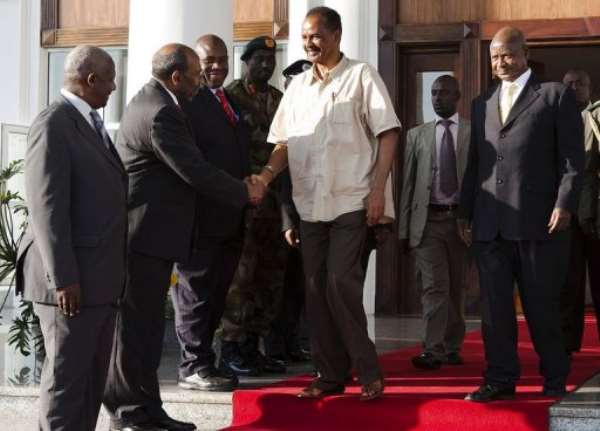 Issaias has led the autocratic and secretive Red Sea nation since independence in 1993. By Michele Sibiloni (AFP/File)
NAIROBI (AFP) - Eritrean President Issaias Afeworki quashed rumours of his death by appearing on a special state-run television interview aired late Saturday, his first appearance in a month.
Rumours had grown on Eritrean websites that Issaias, who has led the autocratic and secretive Red Sea nation since independence in 1993, is suffering from a serious liver illness and was being treated in a Gulf state.
However, Issaias said his unusual absence from state-media -- where normally his daily activities dominate the news -- had been because he had been travelling.
"I am lucky, I enjoy robust health," Issaias said in the television broadcast, looking apparently healthy, dressed in a loose shirt.
"The speculated ill-health is only in the minds of the authors of such a baseless rumour," he said, according to a statement on the state information ministry, which added he had been travelling abroad and in Eritrea.
Issaias, who closed down all independent media in the Horn of Africa nation in 2001, said the rumours of his sickness were "coordinated psychological warfare" and that people should not be "distracted by futile enemy ploys."
"The public should not fall into the trap of being misled by such fabricated misinformation, for acts of this nature may be repeated from time to time," he added.
Earlier this month Asmara had blamed "demonising campaigns" by the United States spy agency for the rumours, in a rare statement commenting on the ex-rebel turned president's health.
"The source of this fairytale is none other than... the Central Intelligence Agency (CIA) could not even deceive the naive."