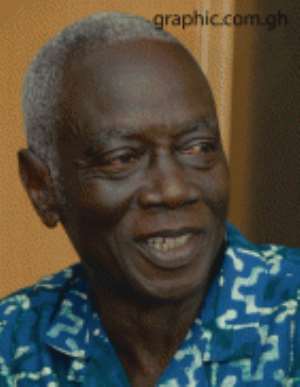 Kwadwo Afari Gyan - EC Chairman The Electoral Commission (EC) had registered 10.5 million prospective voters at the end of the third phase of the ongoing biometric voters registration exercise.
According to a source at the EC, with that provisional figure, the EC was on course to achieving a successful biometric voters registration, which ends on May 5, 2012.
The EC projected to register 13 million voters before the beginning of the compilation of the biometric voters roll.
Before the 2008 elections, the number of registered voters on the roll was 12.5 million, of which over nine million exercised their franchise in the elections of that year.
Currently, the number of people involved in multiple registration stands at 4,000.
The Chairman of the EC, Dr Kwadwo Afari-Gyan, had made it explictly clear before the beginning of the exercise that any prospective voter who registered more than once would not have his name in the electoral roll for five years.
Additionally, the offender would have his or her name deleted from the roll, be fined, sentenced to a jail term or both.
He made the announcement during an interaction with the Council of Women Traditional Leaders in Ghana as part of the EC's biometric voters registration educational campaign in Accra.
He noted that unlike the manual voters register in which only photographs of voters were compared, the biometric register compared the fingerprints of all voters to check for double registration.
In recent times, some people have been arrested and others jailed for involving themselves in multiple registration.
In Bimbilla, Iddrisu Ziblilla, 36, a teacher of the Gbungbadiga RC Primary School, has been sentenced to 12 months' imprisonment by a magistrate court for multiple registration.
However, at the same court, Afia Suyini, 20, a farmer of Sonayili, was cautioned and discharged for a similar offence because she was nursing a three-month-old baby.
An Accra District Magistrate Court, on April 23, 2012, ignored a plea of insanity from the brother of a 47-year-old man who had registered 15 times and fined the culprit GH¢6,600.
In default, Emmanuel Archibald Laryea, who also bit the thumb of a policeman when he was being arrested, will serve two years and nine months' imprisonment.
graphic.com.gh