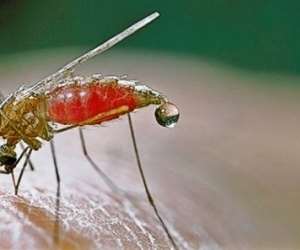 Accra, April 27, GNA – Mrs Charity Binka, Executive Secretary of African Media Malaria Research Network (AMMREN), has observed that malaria affected socio-economic development and wellbeing of Ghanaians.
She therefore, called on stakeholders in the health sector to ensure stronger partnership in the fight against the disease.
Mrs Binka called on individuals, government, private sector, health workers and the media to collaborate efforts towards the fight against the disease.
Mrs Binka made the observation at a forum, organised by AMMREN to mark World Malaria Day 2012, on the theme: "Sustain Gains, Save Lives; Invest in Malaria," in Accra,
The Network was support by Indepth Network Effectiveness Safety and Study and Women, Media and Change and African Leaders Malaria Alliance.
The Day is to recognise global efforts, to effectively control malaria and to give the country the opportunity to review, analyse and plan the way forward to improve on initiatives and programmes.
She said malaria, which is caused by parasites transmitted to people through infected female anopheles mosquitoe, was a life threatening disease that continued to kill people.
Mrs Binka said in Africa Malaria accounts for 40 per cent of public health expenditure and added that about three million deaths are recorded each year, mostly among children under five years and pregnant women.
She said in Ghana malaria affected economic growth and development and stressed that on the average, about 3,859 deaths annually were due to malaria, 1,500 children under-five years died from malaria every year, and 60 pregnant women died every year from malaria.
Ms Binka said though mortality among children under five had decreased from 120 per 1000 to 80 per 1000, "Many more lives can be saved through implementation of proven and innovative interventions".
She urged the public to seek appropriate treatment for malaria and use insecticide treated nets to minimise the effects of the disease.
Speaking on the topic, "Artemisinin-based Combination Therapies (ACTS), Threat of Resistance and the Affordable Medicines Facility – Malaria (AMFm)," Ms Ellen Sam, Pharmacist at the Police Hospital, said ACTS was currently considered the world's best treatment for malaria and that the ACTs was a major factor in the huge strides made in combating malaria.
Artemisinin, extract is from the tree Artemisia annua used in China to cure fever for more than 1,000 years and ACTS are made of two drugs: the artemisinin, which is potent but fast clearing and partner drug, which was slowly eliminated.
Ms Sam said: "It is far more complicated for a parasite to develop resistance to the two drugs used for the combination."
She explained that the rational for ACTs was its fastest rate of parasite clearance, hence quick reduction in morbidity and low mortality.
Ms Sam called for concerted efforts to stop the sale of fake and substandard drugs, and the use of single drug treatment.
Professor Alex Dodoo, Director, Centre for Clinical Pharmacology, University of Ghana Medical School, and Safety Task Team Leader, INESS, said malaria killed a child every minute in 2010, and that among half of all malaria-endemic countries in Africa, more than 80 per cent of cases were still being treated without diagnostic testing.
He said access to ACTs were the most effective medicines for treating uncomplicated malaria, yet millions of people still lacked access to it.
Mr Kwame Agyarko, Technical Coordinator (West and Central Africa) for African Leaders Malaria Alliance (ALMA), said the key initiative of ALMA was to promote the banning of oral artemisinin based mono therapies and promote local manufacturing of essential malaria commodities.
He said ALMA supported the removal of taxes and tariffs on all malaria medicines to ensure a robust delivery platform for effective interventions.
ALMA is an alliance of African Heads of State and Government working to end malaria-related deaths.
It aims to keep malaria high on the political agenda at global, national and local levels, and provide a forum for high-level collective advocacy.
This would ensure an efficient global procurement system, with emphasis on funding manufacturing and distribution as well as providing a forum, to share best practices, to review progress and address challenges in meeting the malaria target.
GNA