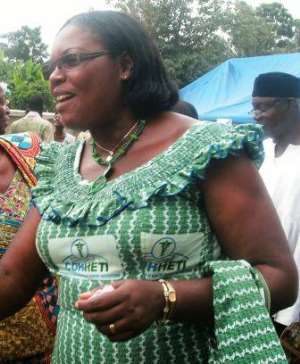 A former director of the Ghana Health Service (GHS), Alhaji Dr. Mohammed Bin Ibrahim has enjoined health service professionals to always resist the temptation of embarking on sit down strike.
According to him, such an industrial action should not be entertained by health workers because "God has placed them in a position to heal and save lives".
He was addressing the 4th matriculation ceremony of the Community Health Nurses' Training School, Fomena, in the Adansi North District of Ashanti.
Dr. Ibrahim, who currently serves as the National Coordinator for the GHS' Leadership Development Program, says health workers should at all times seek dialogue in resolving grievances with salaries, condition of service and all other job-related challenges.
He also entreated the student nurses to be committed to serving in deprived communities, whilst they strive to be discipline professionally, socially and morally.
The Community Health Nursing programme is a two year certificate programme with the objective of training community health nurses to render primary healthcare services.
The training school at Fomena is going through accreditation to offer Diploma in Community Health Nursing to provide preventive, promotional and rehabilitative healthcare services.
The schools rapid growth has been dogged with challenges of inadequate infrastructural development and tutorial staff – inadequate staff residential accommodation makes transfer and posting to the school unattractive.
Advertisement
Of the over 2,700 qualified applicants for the 2011/2012 academic year, the school could only admit 302, representing 14 percent of those interviewed.
This is because over 60 percent of school's infrastructure has been abandoned due to financial constraints; leading to over-crowding and pressure on water supply, washroom and toilet facilities.
School Principal, Lynda Rockson Banful Mante, has appealed to the health ministry to quicken the pace of upgrading the school's infrastructure.
She also called for other stakeholder support to resource the school in the delivery of quality training.
"The training of our students is geared towards having a nurse who is knowledgeable, competent, with a positive attitude to give quality healthcare. For everything that is health is wealth. The quality training of our human resource base for health service delivery therefore is the business of all stakeholders. A well trained health service provider for quality healthcare delivery is a major component in the realization of the better Ghana agenda", emphasized Mrs. Banful Mante.
In the midst of the constraints, however, the school recorded a 99 percent pass in the last Community Health Nursing Licensing exams organized by the Nurses' and Midwives Council of Ghana.
Community health nurses are the main service providers in the implementation of the Community-based Health Planning and Services by the Ministry of Health to make primary health care accessible to all.
Story by Kofi Adu Domfeh/Luv Fm/Ghana