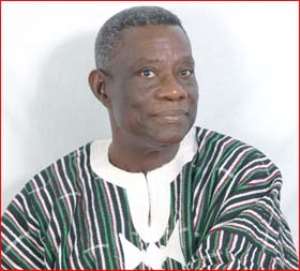 Please continue from Part 1 of the above to enable you have the full picture of the roadmap that would certainly lead Prof. Mills to a total humiliating defeat.
HUMBLE PIE FOR MILLS TO BITE
To bring the curtain down on this write up, this writer would like to draw the attention of HE John Evans Mills and his Vice, John Mahama to the scriptures because both of them profess to be Christians. The boss takes delight in the blasphemous title of 'Prince of Peace' from Jesus Christ. The only Prince of Peace that the universal Christendom knows was Jesus Christ and not Mr. Mills. His deputy also holds an eldership position with the Assemblies of God Church in Ghana. The humble pie the author has probably baked for the duo could be taken from the books of Proverbs, Chapter 14:17 and 1 Samuel 18:7-11 and would earnestly implore them to ponder solemnly over these pages and think about Ghana first while the Nation enters a crucial general elections for the fifth time. Reading the whole of chapter 14 of the Book of Proverbs from the 'Good Book Bible' with particular and special emphasis on verse 17, it says, "People with a hot temper do foolish things; wiser people remain calm." Then continuing further from 1 Sam.18:7-11, - Verse 7 reads: In their celebration the women sang. "Saul has killed thousands." 8. Saul did not like this, and he became very angry. He said, "For David they claim tens of thousands, but only thousands for me. They will be making him king next!" 9. And so he was jealous and suspicious of David from that day on. 10. The next day, an evil spirit from God suddenly took control of Saul, and he raved in his house like a madman. David was playing the harp, as he did every day and Saul was holding a spear. 11. "I'll pin him to the wall." Saul said to himself, and he threw the spear at him twice; but David dodged each time. Do readers know how God works mysteriously for the underdogs? This story could be likened to some of our leaders today.
POLITICAL INTERPRETATION
The political implications in Ghana underline the score that the Mills-Mahama Administration intends, rather, to persecute political opponents instead of legal prosecution to yield results. This is quite simple democracy that has no bearing or place in the NDC dictionary or vocabulary. Why chase opponents who are flies and kill them with bulldozers? Why this glaring hypocrisy? Idiocy, isn't it? Coming back to the interpretation of the penultimate paragraph, King Saul was king of Israel while David was the eighth born son of Jessie, an ordinary Israeli subject under him. David as a servant boy and harp player at the king's palace often treated him to the music of the harp whenever evil spirit dawned upon him. Ghana has one president, that is, Prez. Mills, and no other person apart from him but he thinks otherwise: either Mr. Rawlings being accorded 'the Guard of Honour' ceremony in Sunyani in 2009 or Nana Akufo Addo's return to Ghana when he was met on arrival by a tumultuous welcoming party of NPP supporters at the Kotoka Airport seems to exhume his presidency, hence the tremble. And for him to continually express such emotional sentiment that Ghana has only one president is indeed akin to the self-inflicted defeat and concession by King Saul that 'They will be making him king next' as clearly depicted by him.
DESPERATION AND TREPIDATION
The desperation and trepidation that have embroiled the ruling party has compelled them to use every available poll-winning strategy and mechanism to redeem their lost image and help consolidate their position of continuity. One of the two glaring examples of special mention was the assembly of the galaxy of some prominent Volta Region chiefs and queen mothers who trooped to the North Ridge residence of former president Jerry Rawlings (their son) to, as it were, plead for forgiveness and to help reconcile the two. First, where were all these prominent chiefs when the Rawlingses were totally humiliated at the July, 2011 Congress in Sunyani? Again, where were these distinguished traditional rulers when Nana Konadu Agyemang Rawlings was chased out of Cape Coast at the behest of Comfort Ama Benyiwa Doe and Allotey Jacobs to offer her 'thank you' to the supporters? One really wonders whether a former first lady, a bonafide Ghanaian needed a 'travel visa' to go to Cape Coast. Did any Volta Chief or Prof. Kofi Awonoor, himself a Voltarian, Chairman of the Council of State, a tribalist and national protagonist for the Ewe hegemony in Ghana, point a finger at the NDC leadership when Kofi Adams, the spokesperson for the Rawlingses, was ostracized by the party?
AMBASSADORS OF PEACE
Since when did they realize the need for reconciliation between the two feuding factions for them to be used as ambassadors of peace? Did anybody muster courage to caution the government that they were adding insults to injury when the Fonkar Director of Operations, Ernest Owusu Bempah, was incarcerated by the Police/BNI with the president as their employer? Please, don't pretend as if you do not know too well the current developments and play the ostrich. For all you know, with due respect to your high office, ex-president will never budge today nor tomorrow. The writer does not expect Mr. Rawlings to go back to lick his phlegm from the ground for if he did, my respect for him will forever erode and posterity would not forgive him for hypocrisy. Now that it was evident and the signs were on the walls and imminent defeat stared at his face as incumbent, you saw the need and the importance and, of course, the significant role he could play with his charisma as 'campaign machine' to ensure victory smiled at Mr. Mills. What was the guarantee that Mr. Mills would not do his worst if he (Rawlings) childishly rescinded his decision and acquiesced to his elders demand to help him win again? 'Asem sebe'!
EMPLOYMENT OF DAMAGE CONTROL REPAIRERS
The second ploy by the NDC was to contract and hire the services of Kwesi Pratt Jnr. and the embattled Dr. Apaak (who, reliable information suggests, was the NDC apparatchik abroad but has returned home) to do the nasty propaganda for them but these would not wash. The electorates have already made up their minds so their unguarded and tribal effusions do not matter to the ordinary man in the street. Kwesi of all socialists could go hang. The least said about him the better as all that he said at the forum was grossly rubbish, repeat, total rubbish and absolute rubbish. The author dares him to come again. Did viewers who watched him on their television sets notice any semblance of 'drunkenness' on his face when, in fact, he tried desperately to cajole his audience by shouting hoarse from the rooftops? Rubbish! GHANA IS TIRED OF YOU. WAS HE BLINDED BY, AND INTOXICATED WITH 'COCAINE' OR DRUNKEN WITH A BLEND OF MARIJUANA AND AKPETESHIE WHEN HE WROTE IN HIS 'WEEKLY INSIGHT' NEWSPAPER THEN, "THAT AS MANY AS 200 GHANAIANS HAD VANISHED/EXTERMINATED UNDER MYSTERIOUS CIRCUMSTANCES UNDER THE PNDC"? Come on, come again please. If any Ghanaian should be hauled to the ICC, mind you, you would be the first reference point as the principal chief witness when it comes to the disappearance of those innocent Ghanaians. Prof. Mills please shine your eyes because you are creating bad name for your judiciary at international circles. You have been on record to dispute the presidency. Prof. Mills made several promises prior to the 2008 elections but to date, has been unable to fulfill most of them and probably because he gets haunted by them, spends much more time to perpetually resort to engage in insinuations to castigate political opponents and relegate the administration of this country to the hands of bastards and hoodlums.
FAILED AND UNFULFILLED PROMISES
The reduction of petrol fuel price from almost ₵60,000/gallon during Kufuor's era that he trumpeted to bring down drastically to ₵20,000/gallon turned out to be the opposite; control of armed robberies to let it become a thing of the past has rather gained notoriety, the Amina palava too was a case in point; he promised to eradicate the filth that had engulfed the Accra Metropolis within the first 100 days in office but it became a stillborn, the relentless war to be ruthlessly waged against any member of government whose corrupt practices were disclosed by the media would not be spared a minute to stay in office (but readers would be the better judges – the Muntaka Gate Scandal of the decade, the Stan Dogbe's press soiree of Gh₵160,000, the Woyome Gate Scandal of the Millennium, the alleged complicity of principal actors/tresses like Dr. Kwabena Dufuor, Ebo Barton Odro and Ms Betty Mould Iddrisu, the yet–to-be-accounted-for World Cup Disbursements by Ms Akua Sena Dansua for South Africa 2010 - and many, many more keep haunting him madly by the day just like King Saul. When it was David's turn to react and was able to upstage Goliath to bring shame to Saul, so also would Prof. Mills, who has been embroiled in these shameful acts, behave. Why would he not continue to hate Nana Akufo Addo who has not been crowned as king yet? Nana's belief in Ghana and his ability and optimism that Ghanaian school children could enjoy fee-free education during his tenure of office to bring complete social relief to their parents and guardians are singing his praises like the women of Israel and this has spread like wildfire. This development has obviously brought about the political enmity and jealousy between him and the incumbent. So, in effect, the author who does not want to sound a sympathizer and supporter of NPP, but a political analyst and historian, would definitely not want to be a soothsayer to say that Mr. Mills' synonymous characteristic qualities of King Saul of Israel, should not be a surprise and farfetched phenomenon to say that he could possibly be a direct descendant of the cruel Israel King who tried desperately to end David's life – Nana's presidency with support and lies/deceit/falsehood and tribal semantics and political attacks as expressed by the frustrated and desperate Asiedu Nketiah's press conference. He should spare us the ordeal and stop the nonsense about the war-mongering concerning the bio-metric electronic gadgets.
DEMERITS AND HOOLIGANISM
A few of historical events that would obviously go down in history as demerits against the incumbent are Asiedu Nketiah's traditional war dress that he wore to lead the NDC to the precints of the EC in 2008 soon after the re-run. Again, his personal conflict of interest in the Bui Dam City Project where Mr. Mills has allowed him to produce blocks for sale to an institution that he himself is a member. The likes of Kwesi Pratt, Dr. Clement Apaak and James Agyenim Boateng's unguarded utterances that are uncalled for would nail the NDC to the coffin. The partisan posture exhibited and irrelevant remarks that came from the retired but reinstated Chief Supt. Hamza Yakubu, director of the Police Armoured Car Squadron smacked of filth. He is an apology to the police profession when he showed bestial attitude bias towards NPP supporters and executives on Tuesday, April 17, 2012 after the bogus instructions 'from above' had been received that Hon. Kennedy Ayapong should be caged in an armoured car and driven to the BNI from the CID headquarters. The least said about Rose Bio Atenga the much better we could spare our ears from her administrative litigation with Supt. Kwesi Ofori. Did Ghana have an IG when NDC foot-soldiers caused a nuisance at the Adomi Bridge? Where was Mr. Paul Tawiah Quaye when NDC foot-soldiers went and snatched Tender Document box at Wa? If indeed he were in Ghana, what action has his outfit taken on that shameful act? What further action has he taken to caution Mr. Gyamera Yeboah, the Eastern Regional police commander, who is increasingly becoming an NDC operative, after he was alleged to have used his fiat to cause the release of recalcitrant NDC thugs who had no business at Adukrom from custody at an unholy hours of 0100 hours in respect of electoral related issues? Not only that but also the electoral rowdysm at Zabzugu on March 11, 2010 by NDC hoodlums that nearly claimed lives. Furthermore, the public would like to probe the action the IG has taken on the ruthless march by NDC thugs to the Ministries Area in Accra on July 29, 2010. What was more tribalistic tendency than the denigration of the Muslim community by the uncontrollable, incorrigible, introvert Fiifi Kwetey, in an interview with the BBC was quoted as saying that never ever again would Ghanaians vote for a Muslim to become president of Ghana? Further on, what action have the police taken on the various criminal actions embarked upon by Nii Lante Vanderpuye's thugs from Odododioodioo? Is Mr. Mills aware of the displeasure incurred from the UTAG/POTAG and the victims and relatives/dependants who have suffered major demolitions of convenience? Finally, have we forgotten so soon about Sam Pee Yalley's alleged bitter comments about residents of Nima that Mr. Mills' dislike and headache to use the magnificent Jubilee House as office and residence was that they were noisy, rowdy, violent and 'dirty'.
LACKADAISICAL ATTITUDE
His continued lackadaisical attitude smacks of the life of Prophet Eli of old and his bastard sons, Hophni and Phinehas who were never disciplined but were always pampered until the inevitable happened and most readers know how the two sons ended their lives. The incessant and constant persecution of Nana Akufo Addo and his team by the police continues unabated and this impresses any discerning person that he has a hand in all these notorious acts that was why he has not as yet attempted to discipline any appointee or some of his imbecile ministers still at post. If the Vice President, who many expected to be a gentleman politician, but, rather supposedly, a wolf in a sheep skin, added insults to injury by indirectly answering Mr. Kufuor's advice with a statement at KNUST-TEIN, wasn't that posture an act of cowardice? Hear him, 'whoever dreamt and thought of causing trouble before, during and after the elections would ruthlessly be crushed by being run over by a bulldozer, couldn't he have eased the political tension raging like fire by making no comment at all to show political maturity and shame Mr. Kufuor? Was ex-Prez. Kufuor's advice impregnated with any insinuations? Certainly not, and wonder whether two wrongs could even make one right? Could this statement also necessitate or warrant the 'baloney' response from the author if he did not mean any harm to him or a pain in his arse? Mind you, if such loud mouthed persons like Kwesi Pratt and the 'yaka gbemos in society were allowed for hire purposes to heap mountains of insult on Nana Akufo Addo and the NPP in general instead of concentrating on the economic sustenance of the country, trust me, this country would see no peace that the Nation yearns for.
POPULARITY
Again, Nana Akufo Addo is not yet the president of Ghana, but his popularity seems to have soared completely above that of HE Mills. Nana Addo, it is believed, and according to unconfirmed reports from Ghanaians resident in the U.S., commanded more respect when he once presided over the proceedings of the UN General Assembly in New York in his capacity as Foreign Minister under Mr. Kufuor than Mr. Mills as president, so why would he not feel jealous about him? Unlike Nana Akufo Addo, Prez. Mills had all it takes and the precious time to have pushed Ghana's foreign policy of non-alignment and neutrality position at the UN; he could have stated Ghana's position clearly on the Sudan and what he thought the AU could do; he should have used that platform to solicit for funds for the deadly HIV Aids menace and malaria control in our midst; hammered on the U.S. continued occupation of Afghanistan; he could have expressed his opinion on the wild fire that had engulfed the whole of North Africa and some of the Arab World. Thereafter, a meaningful contribution to the socio-political turmoil there would have sufficed and back home in the sub-region, the upheaval in la Cote d'Ivoire and the Boko Haram in Nigeria and how sanity could be collectively sought by the UN Assembly to let peace prevail in these sister countries instead of the Global Talk of Town, the ('Dzi Wo fie Asem' - the mind your own business episode) but rather chose to harp on seemingly irrelevant topics like how he was building schools with sandcrete blocks (with triple price) to reduce 'drastically' the number of those still under trees, provision of school uniforms by his government to the needy, securing 1.6 million non-existent jobs for foot-soldiers etc. at this prestigious UN Assembly. However, were the public toilet take-over and the supervision of some lorry parks nationwide part of the many jobs that had been created? How does one miss this fine and golden opportunity to put such begging requests before that august House?
EARNEST PLEA
The obedient servant would humbly request HE Mills to eschew vindictiveness, vendetta, winner-takes-all attitude and embrace all that he thinks could help bring the boat ashore safely. It is never too late yet. The author would, as usual, like to end this piece with an Akan proverbial caution and it is this "Se akura nyinsen etan bebree a, oto engo mu" to wit, when the mouse longs too much for palm oil that is a traditional delicacy, it finally gets trapped to death. Mr. Mills, please calm down, after all, the crude methods and clandestine machinations embarked upon by the Nii Lante Vanderpuyes, the Ofosu Ampofos, the Kempes Ofosuwares, the Collins Daudas, the Eric Opokus etc. will come to naught as the angelic hosts will definitely descend from on high to vote to bring your kingdom to an end for failing to punish recalcitrant wrong-doers who ought to have been pilloried and sent round the regional capitals like Boye Moses of old. Food for thought – If the Chelsea Football Club in a titanic match against the 'Almighty' Barcelona F.C., were reduced to 10 men for 55 pretty minutes as against the might of their 11 including Messi managed to beat them on aggregate at their own backyard - the Camp Nou Stadium, in the second leg of the UEFA cup match, despite the award of a controversial penalty that was missed after it was taken by Lionel Messi of all players should tell it all. A word to the wise is enough.