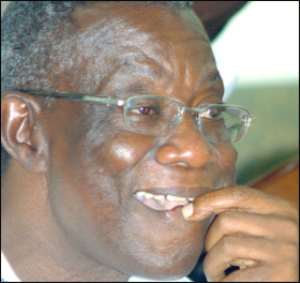 Since the 4th Republican Constitution of 1992 was promulgated, Presidents Jerry Rawlings and John Kufuor initially took their turns in succession with Prof. John Mills as the third one. Incidentally, he has been the luckiest occupant of the presidency and one would like to ask why so. His luck stems from the fact that oil has been discovered in commercial quantities; gold prices have shot up, cocoa prices have been impressive so there was no cause for political mediocrity. The first was Mr. Jeremiah John Rawlings from January 7, 1993 through to January 6, 2001; the second was Mr. John Kufuor from January 7, 2001, through to January 6, 2009, while he as the third, started from January 7, 2009 to date. So in effect, for 20 years since 1992, the National Democratic Congress (NDC), founded on the ideals and principle of probity, accountability and probably, social justice and equal rights for all would have chalked 12 out of the democratic dispensation. The founder of the party, J.J. Rawlings, was of the conviction that Nature had not endowed anybody or group of people to be more prosperous than others by citing his position with an analogy that he saw no reason why residents of Nima – a suburb of Accra, had no decent and better place of convenience, let alone a single water closet for public use, while their counterparts living around the Airport Residential Area and East Cantonments had more than two water closets in their homes). Of the 20 years the NPP has only 8 years to its credit.
APPRENTICESHIP
Prof. John Mills was probably unexpectedly unprecedentedly selected and chosen for presentation to the teeming NDC leadership and supporters at a national executive confab at Agona Swedru close to the end of 1996. Ex-Prez. Rawlings' choice and preference over party stalwarts like Drs. Obed Yao Asamoah, Ekwow Spio Garbrah, Mr. Goozie Tandoh and a few others at the historic Swedru Declaration, certainly catapulted and prompted the former and some leading personalities to defect from the party to form parties like the Democratic Freedom Party (DFP) while others joined some other mushroom parties then in vogue. To many leading personalities of the NDC, Prof. John Mills, then in oblivion and as the head at the Internal Revenue Service (IRS), was chosen from nowhere to become the running mate to jointly partner Prez. Rawlings for the 1996 elections when the relationship between the late Kow Nkensen Arkaah, the Stubborn Cat and his boss had been strained. As indicated, when Prof. Mills luckily became the running mate, he travelled the length and breadth of Ghana. Eventually, luck smiled at him when the 1996 elections were won by the NDC and on January 7, 1997, both he and Rawlings were sworn into office as president and vice to steer the affairs of the State. Soon after, Prof. John Mills continued to enjoy the freebies and other perks of the presidency including huge End of Service Benefits paid to him by the Greenstreet Report. But positively and defiantly, he refused the ESB due ex-president John Kufuor as prescribed by the equally constitution-backed Chinery Hesse Report. However, rivalry between him and the very experienced and well bake, well cut politicians in the NDC grew sour. However, little did many friends and foes alike near him know that he was someone who delighted in divisiveness and this trait traumatized even his closest friends to distance themselves.
UNPRECEDENTED COMMITTEES OF ENQUIRY
Contrary to expectations, one would have thought that President Mills, having undergone the presidential apprenticeship for four years, with about four unsuccessful attempts at national elections, should have performed much better than what obtains today, but has woefully let down his elitist class, the intelligentsia and the 'Fante Confederacy'. As if by divine intervention, since his assumption of power, almost everything that has been undertaken and embarked upon has flatly backfired and fumbled. Virtually, there is nothing that his Administration can lay claim to it except for the vendetta, vindictiveness and setting up committees of enquiry that could win unprecedented laurels/medals. As for promises, readers should not bother themselves because the Ya Na's murderers and others he promised and disturbed our ears should not be taken cognizance of. Since the NDC came into office, as many as 78 committees of enquiry have been set up including the death of the late Mrs. Inusah Fuseini (minus that of pregnant Selina who mysteriously died in Yaw Donkoh's BNI custody) and this is an unprecedented achievement indeed. Selective justice has characterized the Mills-Mahama administration to make it an equally unprecedented, and one wonders whether he was actually the one who taught the brainy legal luminaries that Ghana can boast of at home and abroad. Incidentally, the Mills government has unprecedentedly lost as many as 13 legal battles in our courts of jurisdiction and this bizarre development, the Mills-Mahama government wished it could be broadcasted on the BBC network.
INEVITABILITY
The Scripture says 'what is written is written' and the fact that the voice of the people is the voice of God, no matter what, how and clandestine means the NDC schemes to skew the impending elections to its favour, inevitable defeat obviously would stare at them. From Senegal, we know that the opposition defeated the incumbent government of ageing Prez. Wade. And strangely and professionally enough, it took the opposition candidate two days (not two weeks, not two months) to name his cabinet. That is what one should say was an unprecedented development. Political scientists and analysts the world over could brand him as the fastest leader to come up with his cabinet. This means that before he went into elections, almost everything for that party was on the drawing board and not the kind that we saw in Ghana in 2009 under Prof. Mills that took him the whole half year to fumble with affairs of state. Where was the leadership of the Christian Council like the Rev. Deegbes and others when Nii Lante Vanderpuye masterminded and persecuted eligible voters from exercising their political franchise after some had been maimed? Where were they when Dziboni, please help correct this name if it is wrongly spelt, was terrorizing political opponents in and around Kumasi?
THE WHEREABOUTS OF THE VEEP
Where was Vice Prez. John Mahama when these ugly developments and dastard incidents reared its head and gained prominence at Odododioodioo? Did Mr. Mahama ever use the sledge hammer at the TEIN forum to ostracize Lante Vanderpuye, Collins Dauda, Eric Opoku, Dziboni and others in the Odododioo -dioo, Asunafo and Asutifi constituencies and the Kumasi Metropolis respec -tively? Was he not the same man who used filthy and unprintable words like baloney, block-headedness, foolish, etc. at the Winneba forum to lambast opponents and even coerce the Parliament to use the NDC's numerical advantage to push for the 'bogus' STX Deal? What about Ghana's sovereign guarantee and the amount suspected to have been paid up to now? And how do we as a Nation retrieve it? Where was he, when nincompoops like the Twum Boafos, the Ofosu Kwakyes venomous vituperations on opponents, the Kobby Fiagbe's lies and deceit in his papers, the Okudzeto Ablakwas on the Rawlings' psychiatric check up, the Baba Jamals sheep as cattle drama and the Kobby Acheampongs of 'Kokooase Kuraseni' fame, insulted an opponent to broaden his horizon after coming to Accra from Ashanti? Was he not in Ghana when the Baba Jamal's infamous Declaration of the Jihad for just 6 polling stations at Akwatia was pronounced in this part of the world just because he wanted to become an MP at all cost? Was he not again in Ghana when the Hanna Louisa Bissiw's flurry of inflammatory insults and other unguarded and loud mouthed statements bothering on ethnocentric sentiments were heard on our airwaves? Where was he, when Anita de Souza ran her vehicle over opponents at Atiwa? Where were Mr. Mahama and Asiedu Nketiah when Candidate Mills preached a sermon that Ghanaians should wake up and stand for their rights to challenge the NPP for it was evident that a repeat of the Kenya War could be replicated in Ghana if NDC did not win the 2008 elections? Was Asiedu Nketiah himself highly intoxicated with heroine when he put on traditional war dress and charged supporters to march towards the EC offices because the NPP was manipulating the electoral results to their advantage? Are they collectively not ashamed of themselves that but for James Agyenim Boateng's unguarded but politically calculated statement of causing fear and panic from the studios of Radio Gold, some of them in positions of authority would not be 'somebodies'? We should condemn all these 'baloney'. After all said and done, one would have calmed nerves and credited the vice president with some political plusses if the infamous STX fiasco had materialized to enable the security agencies benefit from their housing accommodation. He would have earned more respect from Ghanaians if he had decided to spare us our ears and remained mute rather than his periodic unguarded and annoying statements of contempt to prejudice the outcome of court actions. Does he know court actions needed no commentary from any quarters to prevent executive bias. As one radio com -mentator remarked recently on air, probably, the vice wanted to use the Ayariga Tractor that he bought so cheap to kill Kennedy Agyapong in the unlikely event that the Treason Trial failed to convict and incarcerate him so that there would be no more vociferous persons such as him to continue the Woyome Gate Scandal. Was Mr. John Mahama not privy to the shameful and political brand tagging of 'Treason, terrorism, genocide, treason felony etc. that were placed on the head of Hon. Ken Agyapong by David Annan (son of the late D.F. Annan), the influential legal capo of NDC.
Advertisement
REMOTE CONTROL
Was he not the one alleged to have used some remote control from the Castle boardroom to push the A-G's outfit and the Police to charge the accused person with treason so that he would never ever be able to defend himself from our law courts to see natural light until thy kingdom come? Why should the NDC allow David, a legal fly, to usurp the powers of Dr. Kumbuor and discredit such an astute legal brain, who doubles as the Minister of Justice and Attorney-General? Why does the NDC so cheapen the administrative machinery of state to such an unprecedented ebb to the hands of inconsistent 'chickens' like what we're experiencing in Ghana today?
POLITICAL MATURITY
If Ghanaian politicians would cast their minds to the events in Senegal, that is what we call precision and political experience and not using national security operatives to chase water tanker operators, fighting over ministerial mansions, foot-soldiers in hot chase for control of public toilets and lorry parks. These were in fact the scenes and moments of mal-administration that characterized the initial periods of Mills Administration and cannot be completely obliterated from our history books when historians settle down to write about unprintable events of his tenure. As if by design and divine intervention, just as most incumbent governments crumbled in elections in 2000 and the opposition parties defying the odds to win their respective elections, so also would the NPP go on to win the 2012 elections no matter the tricks and evil machinations employed by the government with the Ghana Police reinforcing their supplies of ammo from the flanks.
POLITICAL PERSECUTIONS AND INSINUATIONS
Come to think of the Muntaka Gate Scandal, the president quickly came out to rebut that Murbarak Muntaka was certainly not the only one minister who had travelled outside with his girlfriend; when the Kwabena Adjei episode came out, he was far away in the U.S. but soon after his arrival back in the country, he came out with a rebuttal whether his face ever looked like a cat hunter; when electoral registration started and showed ugly signs of brutalities and criminalities and his attention was drawn; lo and behold, to the utter dismay and consternation of discerning Ghanaians, his disgustful remark was that he was not a policeman to effect arrest of wrong-doers forgetting that he was in fact the supreme commander of the Ghana Armed Forces including the police and all the security agencies. One actually wonders whether Ghana really has a president in charge of affairs. The writer could go on and on to serialize the chronicle of developments that have diminished his chances of getting anywhere near winning the crucial elections, so he better advise himself to avoid humiliation. The author was sure that this and many more undercurrent events led to the quick resignation of leading personalities such as Dr. Ofei Agyeman, a former parliamentary candidate for Ayawaso Central. According to this leading personality, Prof. Mills should have rather emulated the examples of the Obamas, the Kufuors and others who blended their governments with persons who contested with them in elections to use their expertise and experience to bring the yielded results for their countries instead of sidelining such dignitaries. He based his argument solely on Atricle 7 of Chapter 2 of the NDC constitution and blamed Prez. Mills for divisiveness but heaped praises on Pres. Kufuor for the all-inclusive participatory democracy by inviting Messrs. J.H. Mensah, Nana Akufo Addo, Dr. Apraku and others. On the other hand, Prez. Obama roped in Mrs. Clinton to be his Secretary of State. Furthermore, Prof. Mills has gone the extra mile to behave as if he were his own man to shame opponents and doubting Thomases but the signs still showed clearly that was not the best of practice. To be continued from Part 2.
By: kofiappiah2002@yahoo.com