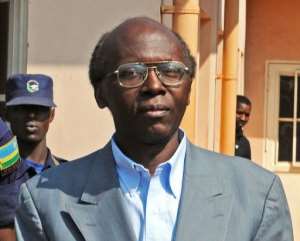 KIGALI (AFP) - Rwandan genocide suspect Leon Mugesera, deported by Canada to Kigali after a long legal battle, had his request to be tried in French refused Friday.
Mugesera, now 59, made an infamous speech in 1992 that allegedly played a major role in sparking the 1994 genocide, in which radical ethnic Hutus killed as many as 800,000 Tutsis.
Mugesera, a linguist, allegedly called Tutsis "cockroaches" and "scum," and encouraged his fellow Hutus to kill them.
His daughter, Carmen Nono, says her family wants "the trial in French so it can be understood by international observers," but the trial will now go ahead in the Kinyarwanda language.
"The pre-detention hearings have all been conducted in Kinyarwanda and he has clearly shown he understands and speaks Kinyarwanda," Judge Anthanase Bakuzakunde said in court Friday.
"Mugesera's speech was in Kinyarwanda, the witnesses understand Kinyarwanda so we see no benefit in using French."
Mugesera is charged with plotting genocide, incitement and distribution of arms. He denies all charges.
He had lived in Canada since 1993 before his return to Rwanda in January.
At an earlier hearing, Mugesera requested to be tried in French rather than in Kinyarwanda, the language of his contentious speech. Rwanda has three official languages: Kinyarwanda, French and English.
"The biggest point is not about him being fluent in Kinyarwanda, it's about the object of the crime which is the speech he delivered in Kinyarwanda," Rwandan Prosecutor General Martin Ngoga told reporters last week.
"We don't want to deviate from the originality of that speech. He's avoiding it for a purpose and we are resisting that for a purpose."
However, Nono says her family is concerned about issues of fairness and adds that it has been difficult to get a foreign lawyer because those they approached are "afraid of being in Rwanda."
"They worked for the ICTR (International Criminal Tribunal for Rwanda), they know the situation and they are afraid for their lives if they go to defend my father," Nono told AFP.
Mugesera will return to court on May 9. He has not yet found a foreign defence lawyer to represent him in Rwanda.