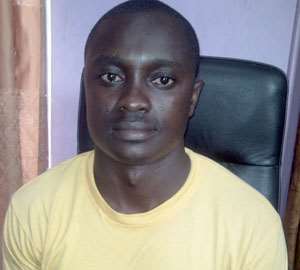 A POPULAR NPP serial caller in Kumasi Michael Ofori Akuoko aka 'Gizo' is living in fear after he was allegedly threatened by KMA Boss Samuel Sarpong over the phone.
The KMA boss allegedly threatened Gizo that he had reduced his lifespan on earth, adding that the NPP serial caller should wait and see. This was after the man had criticised him on radio.
The fear-stricken NPP boy has since last Saturday when the unfortunate incident occurred reported the matter to the Suame Police in Kumasi where investigations into the case are currently underway.
The serial caller reportedly made unsavoury remarks about the leadership skills of the KMA boss and this was said to have infuriated Mr. Sarpong who responded with a threat on the poor boy's life.
A police source at the Suame Police Station who pleaded anonymity for obvious reasons confirmed to the paper that the NPP boy lodged a complaint at the station against the KMA boss on Saturday afternoon.
Gizo visited the DAILY GUIDE office in Kumasi on Tuesday afternoon, saying 'I am still afraid for my life so I want the whole country to be aware of Mr. Sarpong's threat on my life.'
Recounting what triggered the threat, he noted that he as usual called into Angel Fm's 'Di Wo Fie Asem' programme aired on Saturday morning where he mentioned the weak leadership of Mr. Sarpong.
According to him, three minutes after making his submission, Mr. Sarpong called him on his mobile phone to threaten him.
'The KMA boss said do you know you have reduced your life span on earth with your statements? You go ahead and make foul remarks about me, you will see,' he said
Gizo recounted that whilst speaking on the show he accused the KMA boss of making Kumasi dirty and the Kejetia Bus Terminal choked with the building of new stalls.
He said he also lambasted him for not allowing the law to take its rightful course in a case in which his son was alleged to have a pulled a gun on Mr. Sarpong's personal bodyguard who is a policeman.
Gizo again accused Mr. Sarpong of ejecting about 4,000 people including traders and barbers from the Adehyeman Gardens area, rendering the affected people jobless in the process.
The NPP serial caller who looked shocked about the threat on his life said his family and for that matter the NPP should hold Mr. Sarpong culpable if anything nasty happened to him.
He wondered why the KMA boss becomes uncomfortable whenever people criticize his leadership style, reminding him that his office is a public one.
'He should accommodate the views of the public who pay tax to the KMA on a daily basis,' he added.
FROM I.F. Joe Awuah Jnr., Kumasi