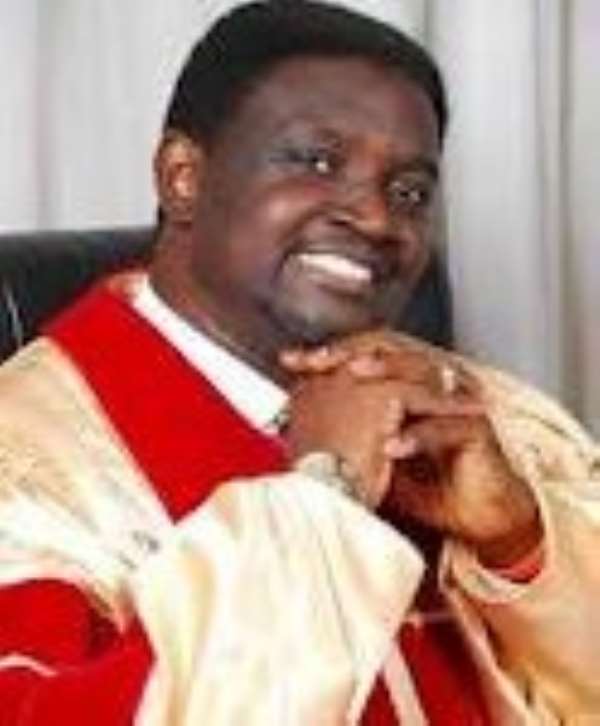 Bishop Charles Agyinasare
By Phyllis D. Osabutey
Bishop Charles Agyinasare
Osagyefo Amoatia
The Ghana Commission on Small Arms and Light Weapons (GCSALW) estimates that out of a world total of 875 million of SALW in circulation, between 120,000 and 400,000 are in circulation in Ghana, of which about 220,000 are in the hands of civilians.
The situation is said to have possible negative impact on the peace of Ghana, especially in the period prior to the 2012 elections, because SALW fuel and prolong conflicts, cause population displacement and obstruct humanitarian relief and developmental programmes, foster a culture of violence and dis-empowers people among others, which calls for drastic action on the part of all actors to safeguard the nation's peace.
One of the initiatives to uphold the peace has been the launch of the Ghana Peace Campaign 2012 to build a rigorous peace infrastructure that is apolitical in its outlook, and focuses on making peace a non-negotiable element in the period leading to, during, and after Election 2012.
The launch, which took place in Accra, on Tuesday, was attended by politicians, religious and traditional leaders from across the country, heads of security agencies, the business community and civil society organisations.
The Okyenhene, Osagyefo Amoatia Ofori-Panin II, who chaired the event, in the spirit of nationalism, interpreted the song titled 'Yen Ara Asase Ne', translated as 'This is Our Own Land' by the late Ephraim Amu, saying, 'it propels us to cherish peace.'
He asked Ghanaians to cherish the peace their forefathers fought for, which they were currently enjoying, so that each person, as a responsible citizen, would exercise their franchise in December to select who should lead the country for the next four years.
According to him, 'Vote for your conscience, and then remember that you are doing it because you are owner of this land, a taxpaying citizen, and also because you have a birthright in this land, and that exercise does not deserve for you to lose your nose, or losing your tooth, or bring harm to you and your family in any way.'
He warned that after the December 7 elections, 'these politicians will not know you anymore; they will be so busy attending meetings, and that is not worth destroying this country,' so the pride that Ghanaians share should propel all to fight for a better future for present and future generations.
Osagyefo Ofori-Panin urged all Ghanaians to respect the peace of the nation and defend it without being complacent, and that Ghana was already a peaceful country, adding that it was also important for all to be selfless as leaders such as Dr. Kwame Nkrumah and his counterparts had been.
He expressed worry that the values of selflessness had been lost over the years, because 'We are too much into ourselves, and that is what is destroying us,' and 'people cannot give up their personal comfort for the sake of others.'
He further indicated that peace was not just the absence of noise, but the presence of opportunities, and so there could not be peace when households remained in need, or children failed examinations among others, and stressed, 'Real peace is when people have dignity and are allowed to take charge of their destiny.'
He appealed to politicians and the electorates not to paint a picture as though 'We are all going to perish after December 7, because it will not happen, and we all have the collective responsibility that the country lives to the expectation of all.'
Also, the Head of the Ahmadiyya Muslim Mission in Ghana and member of the National Peace Council, Maulvi Wahab Adams, said the spirit of understanding and consciousness that Ghanaians shared was the result of the peace the country enjoys.
He noted that though religion was a source of conflicts in some African countries, this did not happen in Ghana, because 'We understand, as worshippers of God, that we have to work together for the prosperity of the country.'
He said it was important that people who did not engage in violence do not also look on as others perpetuate violence, because the question of peace did not lie only with politicians, religious leaders or traditional rulers.
'If we respect our institutions, each of them will do what is expected of them, and then we can move forward,' he said, and added, 'I am convinced that despite all that is going on, because we have strong institutions, peace will prevail, and we just need to encourage them to be up and doing.'
He stated that the whole world was watching the political parties, and so they should endeavour to keep to the political parties' code of conduct or those who would engage in violence would risk being rejected by the electorate.
He reminded all that though citizens from Ghana's neighbouring countries come to Ghana in the event of instability in their countries, 'We cannot be sure that they will do the same for us, so let us safeguard our peace.'
In a welcome address, the Founder and Presiding Bishop of the Word Miracle Church International, Bishop Charles Agyin Asare, said peace was the foundation for development of any nation, and so the entire country should join the train for peace to prevail.
He pointed out that the unpleasant incidents that had taken place in recent times was an indication that if nothing was done about it, the situation could worsen, because nations, over the years, had been destabilised because of elections.
Additionally, he mentioned intolerance as one of the barriers to peace, warning, 'We should not lose sight of what happened recently in Cote d'Ivoire, a country that used to be an oasis of peace.'
He lamented the situation where supporters of political parties often took to the streets, motivated by their leaders to go out and cause mayhem, and admonished political leaders to preach peace to their followers.
To him, Ghanaians loved a good life, and so should not allow a situation whereby people's hard earned properties would end in ruins because of political violence, urging all Ghanaians to cherish the peace they were currently enjoying in the country.
He said tolerance was not relevant only in the political arena, and so religious leaders should influence their people positively, saying, 'Ghana belongs to all of us and not one party or a people, because politicians and political parties will go and come, so at the end of the 2012 elections, let us be able to have a peaceful Ghana.'
The Director of Communications for the campaign, Mr. Kojo Frempong, said in order for people not to take Ghana's peace for granted, the campaign would enforce peace by localising campaign initiatives.
Among other things, there would be the creation of champions of peace, who are influential people, to send out messages of peace, organise peace concerts in all the regions for entertainment, and preach peace, initiate a national peace wear once in a week, and organise an all political parties peace rally to promote unity among politicians and their followers.