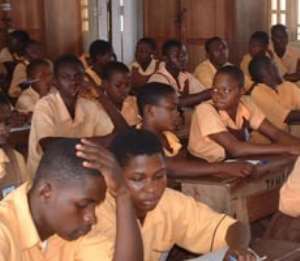 A deputy Director General of the Ghana Education Service (GES), Mr Stephen Adu, has cautioned candidates of the just-ended Basic Education Certificate Examination (BECE) against over celebrating.
He reminded them that engaging in anti-social activities and acts such as taking alcoholic drinks would not help them since such acts were likely to put them in trouble or affect their future in a very bad way.
"They can take soft drinks in the course of their little celebrations but not alcohol. They should also not go to the beach and attend jams in the night," he advised and urged all relations to help keep these children on track.
Mr Adu told the Daily Graphic in an interview that he was not against the organisation of programmes for the JHS graduates, but he was concerned about the night activities and advised that all graduation programmes be organised in the day with adequate supervision.
He explained that those programmes should be used to educate the graduates and prepare their minds on what to expect as they entered the world, adding that the future of the children was very important as they climbed the academic ladder.
The deputy director said the end of the BECE examinations did not mean they should stop learning, but rather they should continue learning by reading educational materials that would go a long way to give them insights into what to expect as they further their education.
"I will advise the JHS graduates not to stop learning with the end of the BECE. They should continue learning as they wait for their results," Mr Adu stated.
This year's BECE which began on Monday, April 16, 2012, ended on April 23, 2012.
A total of 376,859 candidates from 11,164 public and private junior high schools across the country sat for the examination.
The total candidature represents a 4,033 increase over last year's figure of 372,826 who came from 10,500 schools.
The candidates wrote the examination at 1,339 centres and were supervised by 13,212 invigilators and supervisors.
In all, 203,394 males and 173,465 females sat for the examination which would produce the second batch of third-year students for senior high school since the change of government in 2009.
Statistics on the 2012 BECE made available to the Daily Graphic by the West Africa Examinations Council (WAEC) indicated that the Ashanti Region had the highest number of candidates for the examination.
The region had a total of 77,222 candidates made up of 36,157 females and 41,065 males.
Following the Ashanti Region is the Greater Accra Region with 66,964 candidates made up of 32,673 males and 34,291 females.