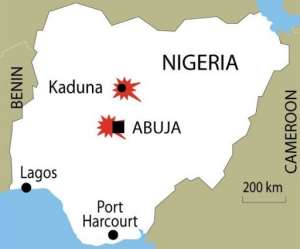 ABUJA (AFP) - Bomb blasts targeting newspaper offices in Nigeria's capital Abuja and the northern city of Kaduna on Thursday killed at least six people in the first such attacks targeting the country's news media.
The explosion in the capital badly damaged an office of national newspaper ThisDay, one of the country's most prominent, killing at least three people there, according to a rescue official who spoke on condition of anonymity.
Circumstances were unclear, but witnesses said it appeared a bomber had driven toward the building through a back gate.
In Kaduna, one of the main cities in the north, a bomb went off outside a complex housing a number of newspaper offices, including for ThisDay, and the attacker was said to have driven his car onto the premises, with it later exploding.
Police said a suspect in Kaduna was arrested and he was suspected to be a member of Islamist group Boko Haram.
A purported spokesman for the Islamist group had recently made threats against newspapers, saying they were being used by authorities to publish stories against Boko Haram.
Details of the explosions were sketchy, with a spokesman for the country's National Emergency Management Agency saying the Abuja blast "occurred inside the premises of national newspaper ThisDay."
He added that "a preliminary investigation seems to indicate that the explosive device was planted somewhere within the premises, not likely a case of suicide bombing."
Later however, he said various information was emerging and he could not yet draw any firm conclusion.
Witnesses reported that it appeared a truck had forced its way through the back gate to enter the printing area. A ThisDay executive said two security guards were killed and five support staff wounded.
A rescue official speaking on condition of anonymity confirmed three dead, including the bomber. Damage could be seen to the printing press and other areas.
Dozens of security and rescue workers were at the scene, as well as firefighters.
In Kaduna, witnesses reported a chaotic scene where the attacker left a bomb outside a complex housing newspaper offices, then drove his car onto the premises before leaving the scene.
The bomb outside the premises exploded, while the car later detonated. A local emergency agency spokesman reported at least three dead.
Boko Haram's insurgency, mainly in northern Nigeria, has killed more than 1,000 people since mid-2009.
It claimed responsibility for an August suicide bombing of UN headquarters in Abuja that killed at least 25 people.
The group's deadliest attack yet occurred on January 20 in the northern city of Kano, the country's second-largest, when coordinated bombings and shootings killed at least 185 people.