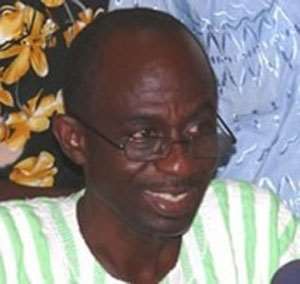 The General Secretary of the National Democratic Congress (NDC), Johnson Asiedu-Nketia, has accused the New Patriotic Party (NPP) of looking for triggers in the on-going biometric registration exercise to unleash the terror it has planned on innocent citizens in the country.
He said where those triggers didn't exist, the NPP sought to manufacture some with the active connivance of media houses that shared in the diabolical agenda.
Speaking at a press conference on recent political upheavals in the country, Asiedu-Nketia said Kennedy Agyapong's latest statement should not be seen as a single isolated incident but should be seen rather as another stage in the planning and implementation of an orchestrated and well-rehearsed agenda of the NPP to throw the nation into chaos as a result of its inordinate ambition for power.
He said the United Party (UP), progenitor of the NPP, had its history deeply rooted in politics of ethnicity.
Asiedu-Nketia said unfortunately, with the advent of modernity and the conscious effort made by the first President of Ghana, Osagyefo Kwame Nkrumah, to groom the youth of the country to see themselves first and foremost as Ghanaians before any other identity, the NPP, both in theory and in practice, had not weaned itself of the canker of ethnicity.
According to him, a study conducted by Centre for Democratic Development (CDD) concluded that ethnic polarization had worsened under the eight-year rule of former President Kufour and the NPP.
'It is no wonder that the UP tradition, in all its history, has never fielded a non-Akan as their presidential prime ministerial candidate,' he added.
Asiedu-Nketia said Nana Akuffo Addo, in his infamous 'All die be die' statement, also referred to the NPP members as 'yen akan fuo de', implying that NPP was synonymous with the Akan ethnic group.
http://www.dailyguideghana.com/wp-content/uploads/2012/04/ndc_thugs.jpg
The NDC hoodlums weilding offensive weapons
He stated that a chronology of the events that happened at Odododiodioo indicated that Ursula Owusu, who had no legitimate and authorized business to transact at a polling station in Odododiodioo, which is outside her constituency, led people to go and register at that polling station.
Asiedu-Nketia noted that when she claimed she came under attack by irate youth at Odododiodioo, her first port of call was a radio station instead of a police station, seeking to incite reprisal attacks and blaming the police for doing nothing.
He said, 'Because of this conduct of Ms Ursula Owusu, we in the NDC demand that the security services should invite for questioning all the persons whose pictures appeared both as victims and attackers wielding offensive weapons on the front page of the DAILY GUIDE the day after the incident'.
Asiedu-Nketia stated that the party was confident that by establishing the true identity of these people, the nation would be able to unravel what actually took place at Odododiodioo on that fateful day.
He said, 'This year's registration process has so far seen marked improvement in terms of security breaches over the 2008 exercise, the unfortunate incidents in Odododiodioo and Kumasi notwithstanding.'
By Cephas Larbi