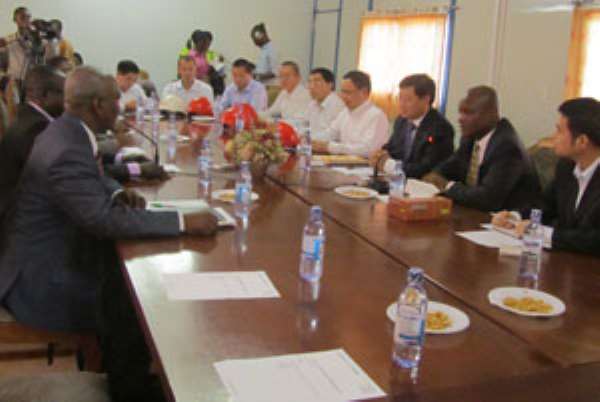 Togbe Afede XIV addressing ECG and Sunon Asogli personnel.
SHENZHEN ENERGY Group Limited, a major shareholder of Sunon Asogli Power Ghana Limited, says the company has targeted a total amount of 5000 megawatts of power to solve the country's electricity generation crisis.
The Chinese investor mentioned that all is set for the second phase of the project to begin to produce 560 megawatts of power at a cost of US$360 million.
This would be sold to the Electricity Company of Ghana (ECG) and Ghana Grid Company Limited (GRIDCO).
Li Xiao Hai Shaw, Board Chairman of Sunon Asogli Ghana Limited, made this known during a working visit by officials of ECG to Kpone, near Tema where the Asogli Power Plant is situated.
He noted that feasibility studies for the project is progressing steadily, adding that the commencement of the second phase will follow shortly because the country's production of natural gas will guarantee steady and dependable supply of gas to enhance work on the second phase.
He said when completed, the second phase will add 360 megawatts of power to the electricity generation capacity in the country. Currently, the company produces 200 megawatts, which is about 15 percent of the total national generation capacity.
Noting that the first phase of the project cost the company an amount of US$200 million, the board chairman noted that his outfit intends to be the leading power generators in West Africa sub-region.
William Hutton-Mensah, Managing Director of ECG, expressed his appreciation to Sunon Asogli for its 15 percent reliable electricity power supply and called on Sunon Asogli to join force with ECG to deliver the required services to Ghanaians.
According to him, electricity consumption in Ghana is currently estimated at over 7.095 billion kilowatts per hour (kWh), while production capacity is at over 6.489 billion kWh.
Togbe Afede XIV, a director of the company, was of the view that unreliable supply of gas had stalled the start of the second phase of the project, noting that the delays have financial implications for the company.
He said Sunon-Asogli, a private Chinese-Ghana joint venture with power investment, seeks to build an energy village to produce 560 megawatts of electric power to be sold out to power distributors in Ghana.
According to him, the success of the project would inspire other Chinese enterprises to invest in the West African sub-region, noting that the improvement of power supply will largely depend on ECG and Government's guarantee to be able to embark on other projects since Shenzhen Energy is capable.
In 2006, Togbe Afede XIV invited Shenzhen Energy Limited to investigate the power climate in Ghana. A year later, the company decided to invest in Ghana by building the Sunon Asogli Power Plant in Tema.
From Vincent Kubi & Dorcas Larbi, Tema