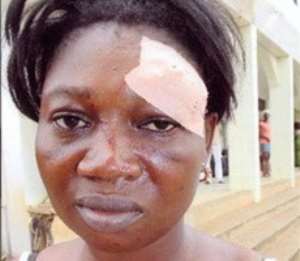 The Accra regional Domestic Violence and Victim Support Unit (DOVVSU) is on the heels of one Elsie Asantewaa for assaulting her boyfriend's wife, Jemima Boateng Manyo.
The police are also after Godson Manyo, 37, the husband of the 33-year-old victim for the role he allegedly played in the brutalities she suffered.
According to a source close to DOVVSU, Jemima first called at the unit on February 11, 2012 and reported a case of negligence and abuse against her husband, who is an insurance broker with one of the insurance companies in Accra.
During investigations, the police had to visit Jemima's matrimonial home at Teiman, near Oyarifa, where she cohabited with her husband and his concubine, Elsie Asantewaa.
They found that Godson and Elsie, with whom he had a three-year-old child, lived in the same compound with Jemima, who has been married to Godson for the past seven years and also has a three-year-old daughter.
The two allegedly subjected the victim to emotional and verbal torture.
The situation turned worse on April 15, 2012 when an investigator called at their home to question Godson and Elsie.
No sooner had the officer left than they brutally attacked their victim and subjected her to all sort of heckling and beatings for reporting them to the police.
Jemima reported back to the unit with a bruised face and informed them of what had transpired after the police's visit.
Since Elsie's arrival in Godson and Jemima' matrimonial home in October 2012, Jemima Manyo had known no peace as her husband virtually abandoned her.
"During her first visit in early October, she told me that she was coming to join me in the marriage after introducing herself as my husband's girlfriend. Elsie advised that if I cannot stand her then I should leave while she took over the marriage," Jemima narrated.
Advertisement
Godson and Elsie allegedly took their bath together in an open bathroom on the compound while they insulted her. Not only is she denied money for the up-keep of her three-year-old child, she is also denied every right as a wife including her sexual needs.
Mrs. Jemima Manyo said she had gone through a lot since Elsie relocated from Sunyani to share her matrimonial home.
A police source said the two suspects have been invited for questioning.
As at press time Tuesday, the two suspects were yet to honour the invitation.