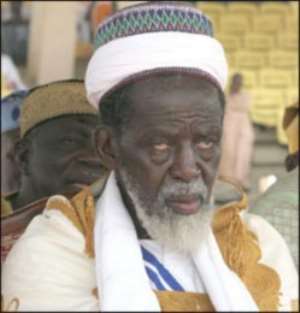 Accra, April 25, GNA – Dr Shiekh Osman Nuhu Sharubutu, National Chief Imam, has called on Ghanaians to refrain from violence and the use of intemperate language in the media.
He has also appealed to politicians to lead exemplary lives as role models for their supporters.
Shiekh Sharubutu made the call in Accra on Tuesday when he addressed Muslim leaders, Chiefs, Imams, Opinion leaders and politicians at a durbar to commemorate his 89th birthday.
He said the prevailing peace, political stability and sound economic management in Ghana had been recognised internationally and that the country had won an enviable position as the beacon of democracy in West Africa, which should be jealously protected.
He pointed out that Islam stood for peace and therefore all Muslims irrespective of their educational or ethnic background should preach peace and pray against violence in the country.
Shiekh Sharubutu advised Muslim youth to resist the temptation of being used by politicians to foment trouble, adding "Muslim youths need better education and not violence."
He noted that Zongo communities in the country were experiencing changes through Government's social intervention programmes aimed at creating employment for the people, and appealed to the Government to continue its support to Zongo communities throughout the country.
Mr Theophilus Tetteh Chaie, National Democratic Congress (NDC) Member of Parliament (MP) for Ablekuma Central said politicians were happy with initiatives being undertaken by the National Chief Imam and pledged government's commitment to ensure Muslims had access to better education.
He said the sustenance of peace was government's priority and called on Ghanaians to join forces in promoting peace and stability in the country.
Mr Chaie presented a public address system to the National Chief Imam as a birthday present to be used in the Mosques for worship.
GNA