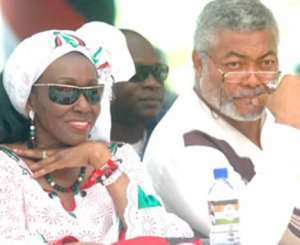 The former president, Jerry Rawlings is arguably regarded as one of the few fighters of social justice on the continent of Africa. Although not without flaws, he is known to abhor anything that goes contrary to the ideals of principles of life, fair play and accountability. These were his beliefs and fortunately or unfortunately, his ideals convinced Major Boakye Djan and his group to risk their lives and free him from the pangs of military detention on that fateful day in June. His beliefs or ideals were so radical, and to some, so 'utopian' that the elderly at that time got skeptical and decided not to go along with him to change our political psyche´.
I remember persons like T. A. Bediako of GNAT fame shied away from this call to duty. He needed people that loved the country, and not charlatans and rabble rousers that swamped around him with praises for their own selfish ends. It is on record that Mr. Rawlings overthrew an Nkrumaist government yet majority of these 'newcomers' who joined him were from the same party which had hitherto run the country down through lies, propaganda, nepotism and corruption. These pseudo- Nkrumaists believe in the 'the end justifies the means' syndrome and would forever throw honesty and integrity to the dogs.
Dr. Kwame Nkrumah and his followers sanctify what we call GRAFT (in horticulture) in Ghanaian politics, and they always ride on the back of principled people to the pinnacle of political power through deceit. They never want to be 'originators' or innovative. Like their inspirational leader Kwame Nkrumah did so many years ago, he was flown to Ghana, then Gold Coast on a free ticket by his benefactors only to catapult himself to citadel of power.
It is not surprising that the descendants of this master 'cheater' would decide to use the fame attained by the Rawlingses to catapult themselves to political stardom. President Rawlings from the get go in 1979 made it ample clear that he hated Nkrumah to the core and he is justified because he saw him as a morbid (gruesome) traitor. Arko Adjei and co could have gone for fat rewards if they wanted to be in bed with the British colonialists, but they were motivated by the emancipation of the whole country, which they felt it was the right thing to undertake and divine. Because we had over 90% illiteracy rate in the 50's (My own estimation), our people could not think through and blindly followed the CPP. The Ahwois, Tsikatas, Awoonors and Atta Mills (so called modern-day Nkrumaists) saw the opening like their master, and capitalized on the infantile intelligence of the flight lieutenant and spilled lies and hatred into his unadulterated mind.
It is even rumored that the Ahwois convinced the former president that Atta Mills was a Ga and this allowed them easy access to the former president. Now all these wonderful ideals of probity and accountability milled by the former president have been thrown to the winds and chop chop is the order of the day. What justification has a party that campaigned on corruption eradication would pay a whopping $500million as judgment debt and still have party executives defend these heinous crimes. How do we revel in lies and half-truths in our body politic as if we do not care about the future of our kids. This is so frightening that we have to weep for our country- a country where ministers of state sit on national TV and lie through their teeth or a political system where the sitting president can doctor bills passed by parliament and the whole country including the legislative branch and the fourth branch of government sit idly by without reprimanding the president or the executive. Only in Ghana will this happen.
Advertisement
It is against this background that we entreat the Rawlingses to form another party. Across our country from Elubo to Paga and from Keta to Wa, there are thousands of individuals who are dedicated to public service and would not compromise on integrity.
I have worked as a Customs Officer before and I know certain individuals in the Service are top-notched officers. They were principled and some are still in the service today even as I scribble down this article. Even though the Rawlingses may or may not win in 2012 general election, this new party would serve as vanguard and put sanity into our politics. Ghanaians will kick the NDC out and warn the incoming administration that any stupidity on their part would also see their demise. Some of us would openly campaign for the Rawlingses. Like Ariel Sharon did in Israel, we entreat Mr. Rawlings to hold the bull by the horn and do what is right for Ghana since those in the NDC government as rightly said by Justice Kpegah will be miserable if they lose 2012 elections.
His statement yesterday confirm our fears that they are in government to live fat on our country. Mr. President, we believe you now know who the traitors were in your government and as a mature person now, you have kept or your cards on your chest. Please, please do not allow these charlatans who killed innovation in our country by hounding the Siaws, Annim Addos, Ameen Sangrias etc. the benefit of luxury. They have pulled the rope for far too long and something must be done now. President Rawlings, the opportunity is now, form the party, form! Form!! Form!!! F O R M.
Koduah, Denver, CO