Moderator Acts On Atrocities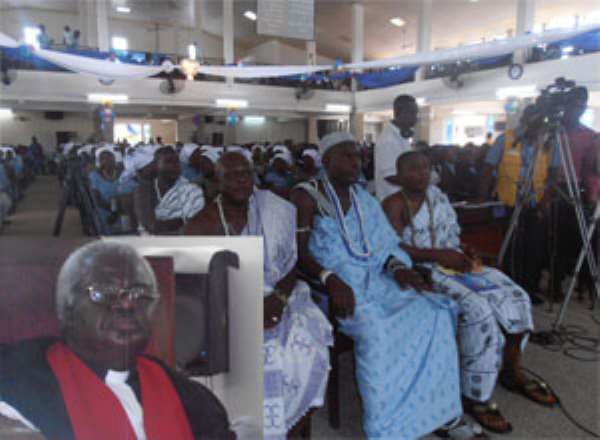 Some worshippers during the thanksgiving service. Inset: Rt. Rev. Martey at the Madina Presby
MODERATOR OF the General Assembly of the Presbyterian Church, Ghana, Rt. Rev. Prof. Emmanuel Martey has called on Christians not to vote for political leaders who keep silent over atrocities committed by members of their own parties but expose them.
'If a leader cannot control the few members of his own party when they misbehave, how can such a leader control the whole country?' he said.
Speaking at a thanksgiving service Sunday to mark the 90th anniversary of the church's Ga Presbytery, Rt. Rev. Martey noted that since Ghana is a predominantly Christian country where about 70% of the population claim to be Christians, politicians should never be allowed to have their own way.
'It is therefore the duty of Christian churches to educate their members about their civic responsibilities,' he said adding the quality of the Church determines the quality of the nation.
'This is a clear indication that believers have a greater say in electing those who should lead and govern the nation. Does any politician whose utterances show he does not value his own life because he wants to die, value the life of others when he comes to power? And is he fit to lead the people whose lives he does not value so much?' the moderator wondered.
He stressed that the violent behavior being exhibited by some people during the ongoing biometric registration exercise poses tremendous challenges to churches as some of these violent persons claim to be Christians.
According to him, any political party, whether the ruling National Democratic Congress (NDC) or the opposition New Patriotic Party (NPP) which organizes 'macho men' to brutalize innocent people, does not deserve to lead these same people.
'Similarly, any politician who utters hate speech and fans tribalism does not deserve to be a leader in present-day Ghana,' he said
He said Christians need to understand that the purpose of the outpouring of the Holy Spirit upon His Church is to empower them to be witnesses for Christ in a world that is engulfed in darkness, a world that knows no peace.
Touching on the duties of the Presbyterian Church, he said it is a Bible-believing and practicing church called and empowered by the Holy Spirit to witness to the world about Christ.
The event was on the theme: 'The Holy Spirit in the Life of the Ga Presbytery.'
The Madina District Presbyterian Church was created out of the La District on February 25,1990 by the then Moderator very Rev. Dr. A. Koranteng.
The district has a total population of 8,997. It currently has 35 ministers, catechists and caretakers.
By Stella Danso Addai