Murder of Nii Kwaku Bibini - Three more arrested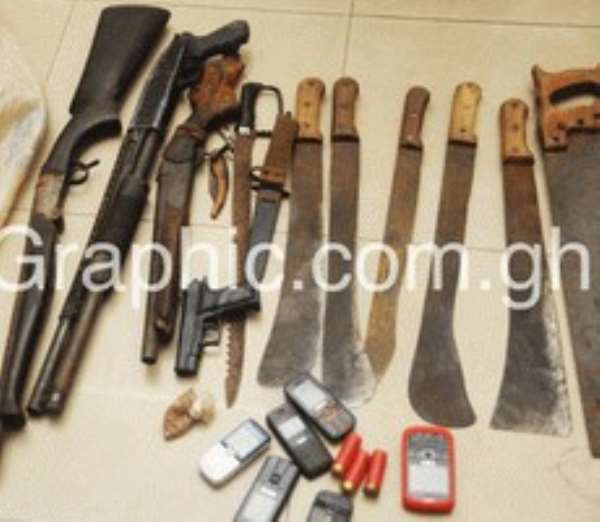 Three more persons suspected to have taken part in the murder of Nii Kwaku Bibini II, a rival chief of Oblogo, near Weija in Accra, have been arrested.
The arrest of Otukunor Sackey, 32, Samuel Tettey, 24, and Samuel Kpormegbe, 32, brings to 10 the number of people in police custody for their alleged roles in the murder of Nii Bibini on Easter Sunday.
Six machetes, six mobile phones, one pump action gun, two locally manufactured guns, a toy pistol, three live cartridges, a bayonet, a knife and one carpenter's hand-saw were retrieved from the hide-out of the three suspects, who were arrested at dawn on Saturday, April 21, 2012.
Nii Bibini was murdered in cold blood about 5p.m. on Easter Sunday by unknown assailants when he returned to the Oblogo Palace after a year's absence as a result of a court order.
Briefing newsmen in Accra on Saturday, the Deputy Accra Regional Police Commander, Deputy Commissioner of Police (DCOP), Mr Christian Tetteh Yohuno, said a joint police/military team on Operation Calm Life duties at Amanfrom was given a tip-off that the three suspects had returned to their house at Blue Cross at Gbawe after the Easter Sunday disturbances at Weija.
He said the police/military team went to the house about 4a.m. where they found the three suspects sleeping in a room.
Mr Yohuno said when a search was conducted on a plantain farm in the house, a sack hidden under some pieces of wood in the plantain grove was retrieved.
When it was opened, one pump action gun, two locally manufactured guns, a toy pistol, three live cartridges, a bayonet, an Okape knife and one carpenter's hand-saw were found in the sack.
The Deputy Regional Police boss said the suspects, together with the retrieved items, were sent to the Regional Police Command.
He said although the three suspects denied their involvement in the murder, some eye-witnesses who saw them had given their names to the police.
Moreover, after the incident, they abandoned their residence for three days before resurfacing recently.
Mr Yohuno said information gathered was that since they returned home, the three suspects hardly went out for fear of being arrested.
He said the three suspects would be handed over to the Homicide Unit of the Criminal Investigations Department of the Ghana Police Service for further investigations.
Following the murder of the rival chief, six suspects were initially arrested and handed over to the Homicide Unit for investigations.
They were Moro Mohammed, 28; Ali Ibrahim, 18; Abdul Rauf, 44; Zakaria Mohammed, 24; Abdul Alhassan, 22, and Alex Borzoga, 25.
A seventh suspect, Ibrahim Laryea, 36, was arrested two days later and also handed over to the Homicide Unit.
Early last year, a similar clash resulted in the death of a native of the town.
Police investigations then led to the arrest of one of the perpetrators, identified as Alex, who in turn told the police that it was Nii Bibini who had engaged them to fight for him.
Based on that, Nii Bibini was arraigned and given bail on condition not to return to Oblogo until the final determination of the case.
Unknown to the police, Nii Bibini had a new court order permitting him to return to Oblogo.
On hearing that Nii Bibini had gone back to Oblogo on that Sunday, two policemen were despatched to the palace to arrest him, since his action was in contravention of the bail condition.
When the two police officers went to Oblogo to arrest Nii Bibini, he produced a new court order granting him relief to enter the town.
However, on his purported triumphant entry to Oblogo on Easter Sunday, Nii Bibini was overtaken by events when gun-wielding assailants attacked him, his supporters and the workers he had engaged to renovate the Oblogo palace.