Biometric Fraudster Convicted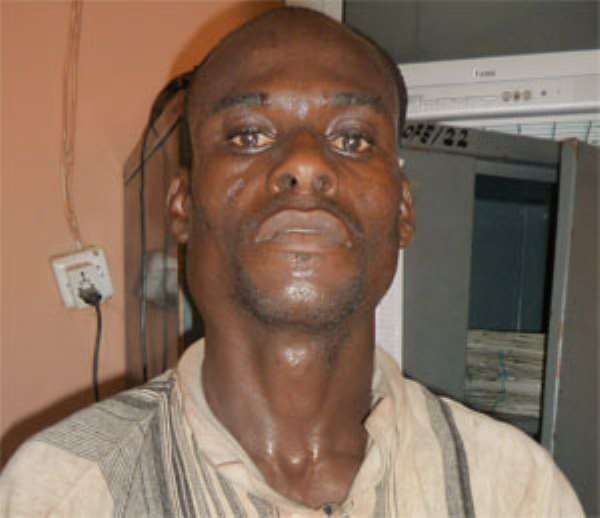 GRABBED! Archibald Laryea
EMMANUEL ARCHIBALD Laryea, the 47-year-old man who was arrested in Accra for registering 15 times in the ongoing biometric registration exercise, has been convicted.
Archibald was charged with two counts of registering more than one time at registration centres and causing harm yesterday at the district Magistrate Court presided over by Ali Baba Bature.
The accused pleaded guilty to the charges but explained that 'my brain was worrying me'. The court subsequently convicted him on his own plea but remanded him into police custody to re-appear on April 24 for sentencing.
A lawyer at the court who acted as a friend of the court requested that the accused be sent to the psychiatric hospital to check his mental status but the trial judge observed that he was normal. According to Ali Baba, if he was not normal, he could not have registered at different areas with different names just to deceive the officers.
The prosecuting officer, Inspector P. Yaw Manu, presenting the facts, informed the court that the accused person was a labourer at Dansoman while the complainant is Gideon Asare Barfour, a registration officer.
He said on April 19, 2012, at about 9 am, the convict went to the Naroda registration centre at Mallam to register. After producing his old voter's registration card and was going through the process, his fingerprints were scanned.
http://www.dailyguideghana.com/wp-content/uploads/2012/04/cards.jpg
The registration cards
The machine detected that the accused had already registered and had his card at Tantua registration centre at Sakaman.
The police at Odorkor were informed and he was arrested.  He reportedly admitted to the offence and when the police conducted a search at his home, they found 15 biometric voter cards and 13 old voter's/voters' registration cards as well as four toy revolving guns.
The names Mr. Laryea used in his registration included Gufhid Quist Jox Provencal, Qusitjox Danfo Kwetey, Epicurus Ahenu Tarlo, Justice Fred Provencal, Philip Obletey Tackie, Victus Wilfred Juqwyjbusu and Anthony Akote.
The rest are Victor Wilfred Abety Moux, Victor Gloveuched, Victor Wilfred Nampty, Provencal Kwetey Buzim, Laryea Archibald, Emmanuel Nii Laryea, and Job Maxwell Auashong. He used different ages on all his registration cards.
The prosecutor disclosed that when the convict was arrested, he attempted to escape but he was chased by General Corporal William Afedo who managed to get him arrested.
When the policeman wanted to arrest him, Archibald reportedly bit the thumb of the peace officer.  Corporal Afedo, who sustained an injury from the bite, was rushed to the Korle-Bu Teaching Hospital for treatment.
By Mary Anane