National House Of Chiefs Cautions Security Agencies, Politicians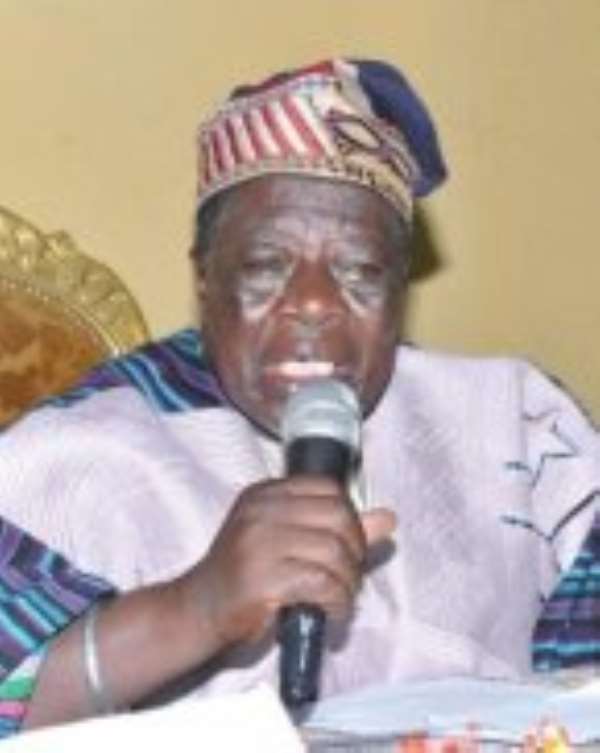 Naa Professor John S. Nabila - Says the NHS is worried about tension in the country
Naa Professor John S. Nabila - Says the NHS is worried about tension in the country The National House of Chiefs (NHC) has advised the security agencies, particularly the Police, to remain completely neutral and be more professional in the discharge of their duties in the run-up to the December election.
"We hope and pray that the security agencies will do their work without fear of favour and always remain neutral as required by the laws of the nation."
This was contained in a statement signed by Wulugu Naba Pugansoa Naa Professor John S. Nabila, President of the House, in Kumasi.
The chiefs expressed worry about the use of indecent and intemperate language by politicians on the airwaves and in the print media something, they noted was stoking unnecessary tension in the country.
They reminded Ghanaians that Ghana is the only country for them and that it is imperative for all to desist from acts that are likely to cause fear, panic and undermine the peace.
The chiefs said: "The National House of Chiefs, as fathers of the nation and custodians of our traditions and culture, is therefore, appealing to all Ghanaians, irrespective of their political interests, religious or ethnic differences to try to desist from negative tendencies, especially, as we progress towards the 2012 presidential and parliamentary elections.
"Ghanaians have been noted worldwide for their hospitality, peaceful behaviour, courtesy and diplomacy in the wake of threatening moments.
"Much is expected of us and we should control our temper in the face of any provocations so as to remain steadfast in the national interest," the statement said.
The chiefs condemned all unfortunate statements and activities committed by some members of political parties in the ongoing biometric registration exercise.
They urged the media to be wary and circumspect in their reportage, adding that, they needed to be objective, careful in the choice of words, tactful and diplomatic in the performance of their job.
GNA