Sudan retakes key oilfield as S. Sudan orders withdrawal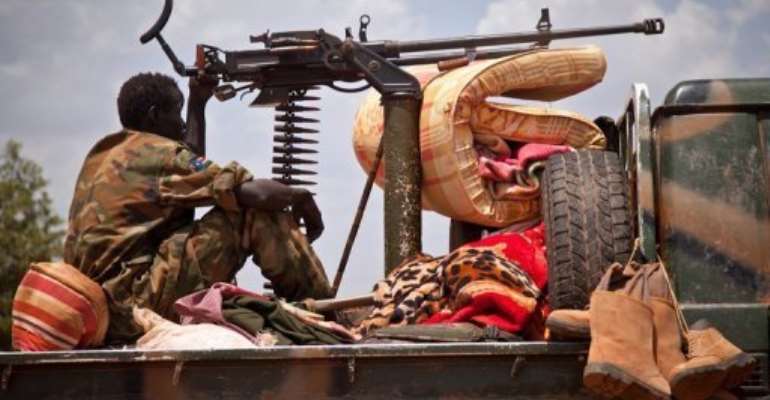 JUBA (AFP) - Sudanese troops recaptured the Heglig oil field Friday after battling forces from South Sudan, whose President Salva Kiir ordered an immediate withdrawal, inching the foes back from wider war.
Heavy casualties were reported by both sides as Khartoum's forces retook Heglig ten days after Southern troops seized it, in a move that had raised concern the former civil war foes were returning to fully-fledged conflict.
"Our troops were able to liberate Heglig town by force," Sudanese Defence Minister Abdelrahim Mohammed Hussein announced on state television. "Our enemy suffered heavy losses in people and equipment."
Sudanese troops launched a renewed counter-attack late Thursday with air strikes hitting Southern troops entrenched along the frontline, with Juba announcing a withdrawal as Khartoum celebrated victory.
"An orderly withdrawal will commence immediately and shall be completed within three days," Information Minister Barnaba Marial Benjamin said, reading out a presidential statement to reporters and diplomats.
International powers have called on Juba to pull back its forces, but it had resisted those calls, insisting it would do so only after Khartoum withdrew its troops from the neighbouring contested Abyei region.
On Thursday, United Nations chief Ban Ki-moon condemned the South's taking of Heglig as an "illegal act," but Juba still maintained Friday that Heglig -- which it calls Panthou in the local Dinka language -- was its territory.
"The decision to pull out of Panthou (Heglig) is without prejudice to our stand that Panthou remains an integral part of the Republic of South Sudan," the statement added.
"We therefore expect that the final status of Panthou-Heglig, and other disputed border areas, will be referred for international arbitration."
Fighting between Sudan and South Sudan escalated earlier this month, following the South's April 10 seizure of Heglig, which makes up around half of Sudan's oil production for its faltering economy.
Sudanese President Omar al-Bashir this week called for the destruction of the "insect" Juba government, and has launched waves of air strikes against the former civil war foe.
Despite its seizure of Heglig, South Sudan maintained it wanted peace and was defending its borders, claiming the contested region was being used by Khartoum as a base to attack the South's oil-producing Unity state.
"Our president said,'I will not again take the people of the Republic of South Sudan into war,'" added Benjamin. "We have been maintaining a defensive position. This is not weakness, it is not cowardice, it is responsibility."
Kiir's statement said that Khartoum had to end its "air bombardments and ground incursions" into South Sudan, and that the pullout was ordered "to create an environment for the resumption of dialogue with Sudan."
Since the invasion, production at Heglig has been shut and facilities there are leaking, and a processing facility bombed Thursday by a Sudanese fighter jet "was burning through the night," Aguer said.
Sudanese "troops moved towards Heglig carefully so as not to destroy what remains of the infrastructure," said Hussein, an international fugitive on war crimes charges in Sudan's western Darfur region.
The clashes sparked widespread fears that fighting would spread. The violence was already the worst since South Sudan won independence in July after a 1983-2005 civil war in which some two million people died.
Tensions have gradually mounted since, with the two governments unable to agree on their border -- which cuts through rich oil reserves -- sovereignty over the disputed territory of Abyei, and oil transit fees.
Both sides accuse each other of backing proxy rebel forces against them, claims each also strongly deny.
Meanwhile, fighters in Sudan's Blue Nile -- civil war allies of the former rebels who now rule South Sudan -- said Friday they had killed 79 government troops and militiamen in two ambushes in the ethnically divided state.
In Sudan's Darfur region, peacekeepers expressed concern that rebels were exploiting the Sudan-South Sudan border fighting.