Kennedy Agyapong, Treason, Treason Felony and Attempted Genocide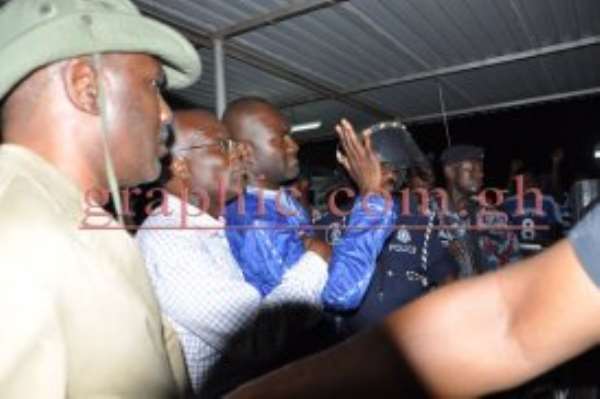 Since the invitation of Hon. Kennedy Agyapong by the Criminal Investigation Department of Ghana Police Service and his subsequent arrest over his remarks on Friday, April 13, 2012 on Oman Fm (a radio station he owns) there have been conflicting commentaries over charges that could be brought against him over those remarks. The Member of Parliament (MP) for Assin North in the Central Region essentially declared a war on ethnic and tribal lines, as he incited Ashantis to attack Gas and Ewes, over challenges confronting the ongoing biometric registration. The controversy surrounding his declaration of war only heightened when the Police eventually charged him with treason, treason felony and attempted genocide. Supporters of Mr. Agyapong, who is also a leading member of the New (National) Patriotic Party (NPP), have condemned the Police over the arrest and charges brought against their unpatriotic prodigal son. However, some well-meaning Ghanaians, civil society organizations, and some political parties have condemned those remarks in no uncertain terms, despite NPP's continued refusal to specifically condemn the comments widely denounced by others. The Alliance for Accountable Governance (AFAG) has thrown its weight firmly behind Agyapong and his remarks in a recent press briefing.
The controversy over the comments have arisen partly because there do not seem to be agreement on whether the reckless MP can back his declaration of war with action. I have reflected on the matter for some time now and find six good reasons why the Police must take Agyapong's war declaration as serious as possible, and consequently apply the law in punishing him to deter other people who may be dreaming of either following the NPP mogul or hatching plans for the realization of the declared war. This is also to ensure that members of the ruling National Democratic Congress (NDC) and for that matter all other political organizations distance themselves from such move. The six reasons include the leading role Kennedy Agyapong plays in the NPP; the colossal amount of money and other resources at his service; tribalism in Ghanaian society; increasing political tension in Ghana; ever-rising poverty and unemployment levels; and instability across the sub-region and therefore how refugees and foreigners could easily be roped in.
The leading role played by Hon. Kennedy Agyapong in both the NPP and the Ghanaian society is not in question. It is no surprise that AFAG has defended him and his remarks. He is the current Member of Parliament on NPP's ticket and the party's parliamentary candidate for the December 2012 polls. He also plays very influential role in organization and financing of the NPP from the constituency level through to the national level. He has therefore grown into an authority whose submissions and instructions are not difficult to apply and abide by within the NPP and other segments of the Ghanaian society. The second important reason why Mr. Agyapong must be dealt with ruthlessly by the law is the colossal amount of money and resources under his control, and therefore the means to bring into fruition submissions and declarations made by him. The man is awash with money very few people comprehend the source and owns very influential media outlets (one of which afforded him the opportunity to make those remarks). It is therefore in the national interest and indeed those of all political parties, including the NPP, that if a person of this caliber declares war few months to general elections (in a continent where elections are marred by conflicts and wars) he must face the severest wrath of the laws of this nation. This is because if the war eventually breaks out, such a person will be the first to abscond in seconds, leaving political parties no nation to rule and worsen the plights of the poor.
It is important to look at the harmful remarks of the NPP magnate in a national context. And this is a context of tribalism in the Ghanaian society. This country has witnessed enough animosity and hatred displayed by some ethnic groupings against others. So the declaration of war by an influentially rich NPP MP on ethnic and tribal lines is something that cannot be taken for granted. There are uncountable stories of wars fought between some ethnic groups in the country so declaring a war in this direction has all the potential "to catch the expected fire". I am reminded of an adage in Ghana which is literally translated as follows: used firewood catches fire with no difficulty. And this is precisely why reckless Agyapong's remarks must be condemned in no uncertain terms and the laws made to deal with him heartlessly. It is sad the NPP has failed, given all these circumstances, to specifically condemn the remarks of such an irresponsible arrogant, and distance itself from the remarks. But this is something that could be related to the very first reason I noted: his leading role in the party. Another reason why these remarks must be taken seriously is the increased political tension in Ghana ahead of the December 2012 general elections. If one clearly listens to Agyapong's remarks it is easy to associate it to earlier unpleasant remarks by the party's flagbearer that "all die be die", which was never retracted and therefore heightening political tensions in the country.
My last pair of reasons borders on high levels of unemployment and poverty in Ghana and neighbouring countries, in addition to political instability across the sub-region. Young men and women who troop unto Ghana's principal streets to sell all manner of products (including dog chains) and those roaming every corner in various cities in search scrap metals provide good ground for somebody like Kennedy Agyapong to bring his declaration of war into fruition. Let us note that, given the circumstances, only small fraction of his wealth will be required to put an army together for war. And he is intemperate and arrogant enough to do this. This can be seen in the huge numbers of people who troop the police headquarters in response to Agyapong's arrest. The recent political crisis of our neighbouring Cote d'Ivoire continue to have substantial impacts on Ghana (although these are largely not reported), as hundreds of refugees continue to reside within our borders. The recent coup in Mali (largely attributed to returning Tuareg rebels from Lybia) and impacts on neighbouring Burkina Faso are important points that must be considered in evaluating the extent to which an influentially rich Agyapong can back his war declaration with action.
I end here with a call on Ghana Police and the Judiciary to handle this matter in the best interest of Ghana, and in light of reasons identified above which clearly form the basis on which the NPP MP who has declared a war can realize his dream. Let us not forget a traditional adage which translates literally as follows: the mouth pronounces what has been cogitated and reflected on.
Kwesi Edukor; Email: [email protected]