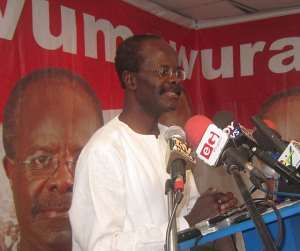 Accra, April 19, GNA - Dr Papa Kwesi Nduom, Flagbearer of Progressive People's Party (PPP) , as well as the National, Regional and Constituency Executives will begin a nationwide tour of the 10 Regions next week.
A statement issued in Accra on Thursday by Mr Kofi Asamoah-Siaw, National Secretary said the tour would begin in the Central Region and end in the Northern Region.
It said the tour was to assess the biometric voter registration exercise and educate Ghanaians on the need to support and vote for the PPP as the "Change Ghana Needs".
"In the wake of the violence, anger and divisive behaviour exhibited by the NDC (National Democratic Congress) and the NPP (New Patriotic Party) over the past month, many Ghanaians have expressed the willingness to vote for an alternative political party. Many are afraid of what will happen in December if anyone of the two parties somehow won the presidency. Ghanaians want to protect the peace and stability we have all sacrificed to establish," the statement said.
It noted that within the short period of its existence, the PPP had sworn to be disciplined and show respect to all Ghanaians including their political opponents.
"We have committed ourselves to forming a government that uses the best men and women without regard to religious, ethnic or political affiliation. We will complete all projects started by previous administrations and we pledge to provide incorruptible leadership.
"We believe that Ghanaians are ready to vote for a peace-loving, respectful, purposeful party. We are working hard to deserve the vote. This tour will enable the PPP to make its case directly to the people in small community group meetings, on radio stations and at places of work."
GNA