Airtel donates to two needy educational institutions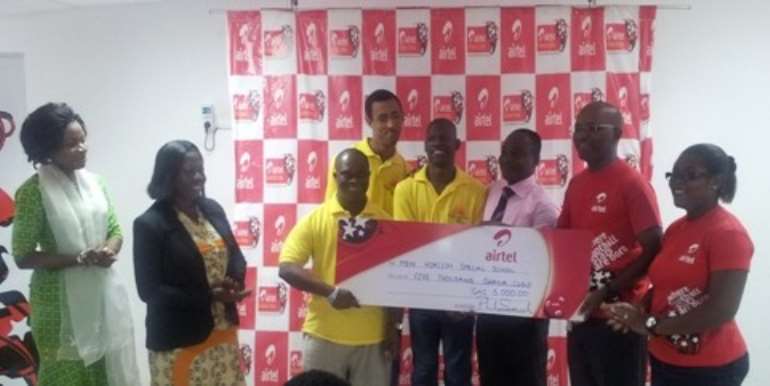 Airtel Ghana has donated cash and beds worth thousands of Ghana cedis to two needy institutions in fulfillment of a promise it made to donate cash from its Airtel Rising Stars soccer tournament to the needy.
The company gave GHC5,000 to New Horizon School in Accra and 25 bunca beds and 50 mattresses to Wa School for the Blind.
Brands Communications Manager for Airtel Ghana, Linda Narh told Adom News Airtel promised to donate $50 for each goal scored during the just-ended Airtel Rising Stars soccer tournament.
She said a total of 78 goals were scored so that came to $3,900 and the company topped it up to fulfill its 'Goal for Education' promise.
"We decided to assist two needy educational institutions and the Minister of Education suggested Wa School for the Blind, and we discovered New Horizon School on our own.
Wa School for the Blind houses 199 students, comprising 79 girls and 120 boys, but recently the boys lost all their beds to arson in the school.
The Senior House Master of Wa School for the Blind, Alfred Abapeiong told Adom News the school has numerous challenges but it got relatively very little help because not many people seem to know it existed.
"We do not have writing materials, our staff bungalows do not have water and even feeding money from the government is insufficient and comes late so now the school even owes suppliers," he said.
New Horizon School also houses 120 students with various forms of anatomical disorders from birth, 77% of which were speech disorders.
Principal for New Horizon School, Mrs. Vanesa Adu-Akosa was grateful to Airtel, but told Adom News out of 120 students of the school, 88 have speech disorders so the school needs permanent Speech Therapist and that would cost at least GHC25,000 every year.
She therefore appealed to all Ghanaians home and abroad and corporate organization to pick up the bills for a permanent Speech Therapist for the school, saying that some Therapist helped occasionally and that proved to be efficient so a permanent one would do the children a whole lot of good.
Meanwhile Airtel said the Rising Stars tournament identified six good under 17 players – two girls and four boys - who were sent to Cape Town, South Africa for trials.
Airtel Rising Stars is a sports talent initiative introduced by Airtel that seeks to discover and nurture talented Under-17 years male and female footballers who are in school and who otherwise would have gone unnoticed and untapped.
Priscilla Saahene who was one of the girls, now plays for the National Under-17 female team, the Black Princess; and one of the boys, Amos Addai also plays for Ashanti Goldfields in the Premier League in Ghana.
The company said the second edition of the Airtel Rising Stars tournament would be launched on April 24, 2012 and the details of a bigger and better package would be disclosed then.


Story by Samuel Nii Narku Dowuona/Adom News/Ghana