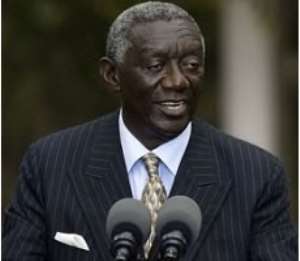 Former President John Agyekum Kufuor has called on President Atta Mills to take steps to douse the rising tension resulting from the arrest of Kennedy Agyapong.
Former President Kufuor, who is currently attending meetings in Washington DC, USA, warned against the escalation of tension, especially, in the run-up to December elections.
He has therefore asked President Mills to instruct the law office and the police not to leave any impressions of partisanship in the discharge of their duties.
Mr Kufuor noted that treason is the highest criminal offense of the land and, and described Kennedy Agyapong's situation as "using a sledge hammer to kill a fly".
Meanwhile, the Head of Policy Monitoring and Evaluation Unit at the Presidency, Dr. Tony Aidoo has dismissed suggestions there is rising tension in the country in the wake of Kennedy Agyapong's arrest.