Assemblyman remanded for leading protest against mining company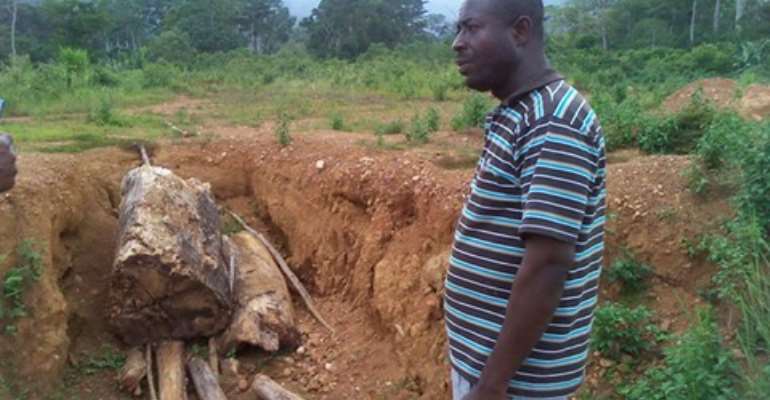 There was an uproar at a Circuit Court in Koforidua Tuesday when an Assemblyman who has been leading protests against the operations of a mining company in his area was remanded by the trial judge.
The detention of Gyeatuo Kyenkyenku was met with protests from the people of Saaman in the Fanteakwa District who thronged the court in which 12 people are facing trial for allegedly demolishing a bridge constructed by Kibi Goldfields over a stream called Apusu.
The locals said the stream is their only source of drinking water and they have been resisting attempts by the mining company, through its subsidiary, Solar Mining, to divert the stream for mining to take place.
Protest by residents led the EPA to suspend mining in the area since 2009, after the regulator had established that the company was illegally mining in the area.
The Kibi Goldfields has now gotten permits from the EPA, Minerals Commission and the Water Resources Commission to go ahead with mining in Saaman.
And the company intends diverting the Akusu stream for mining to commence.
So when the company started building a bridge over a portion of the stream, the residents went and attempted filling it with soil and tree stumps.
The company reported the matter and four people were picked up last week.
Joy News' Benjamin Tetteh who has been investigating the case was in court today and reported that eight others, including the Assemblyman, Gyeatuo Kyenkyenku, were charged with abetting and causing unlawful damage.
The company claimed the people damaged an iron bar worth ten thousand Ghana Cedis, and destroyed the wing of the concrete bridge costing GH¢25,000.
The judge, Wilhemina Hammond ordered the Assemblyman to be placed in custody.
This caused uproar in court as the people vehemently protested the decision.
Lawyer for the accused persons, Isaac Okyere Darkoh made fruitless attempts to raise objection to the detention.
He claimed his client was "an innocent man" could not be kept in custody. But the judge would not budge.
The residents also accused the Police of high-handedness.
For now the people of Saaman say arrests and detentions will not weaken their resolve to stop any mining company from polluting their most priced Akusu stream.