Sudan parliament brands Juba the 'enemy'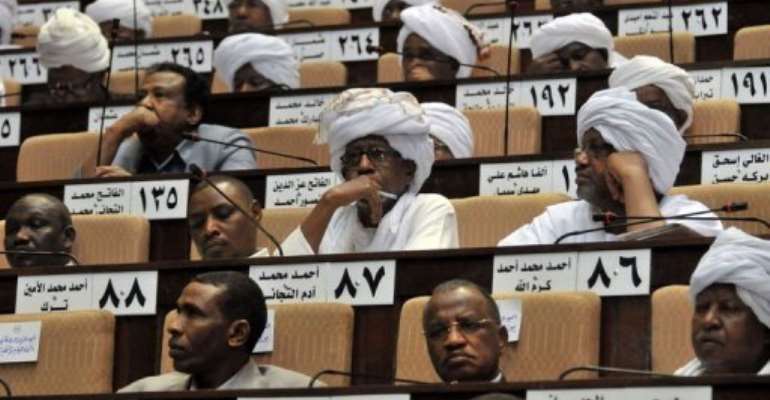 KHARTOUM (AFP) - Sudan's parliament voted unanimously to brand the government of South Sudan an enemy, after southern troops invaded the north's main oilfield.
The vote came as South Sudan accused Khartoum of fresh airstrikes that killed 10 civilians and also hit a United Nations peacekeeping camp, on the seventh day of the most severe border fighting since South Sudan separated last July with hope for a peaceful future.
"The government of South Sudan is an enemy and all Sudanese state agencies have to treat her accordingly," the parliament's resolution said.
After the vote, parliamentary speaker Ahmed Ibrahim El-Tahir called for the overthrow of the Sudan People's Liberation Movement (SPLM) which rules the South.
"We announce that we will clash with SPLM until we end her government of South Sudan," he said.
Fighting broke out last month between the rival armies of Khartoum and Juba around Sudan's main oilfield, called Heglig.
The clashes escalated last week with waves of aerial bombardment hitting the South, whose troops on Tuesday seized Heglig from Khartoum's army.
Although South Sudan disputes that Heglig belongs to Sudan, the area is not among the roughly 20 percent of the border officially contested.
In the Southern capital Juba, Information Minister Barnaba Marial Benjamin said the vote by Sudan's parliament was "unfortunate".
"We have never been their enemy -- our position is that we don't consider them as our enemy," he told reporters.
Fresh bombing raids on Sunday killed 10 civilians in South Sudan's Unity border state, said the area's information minister, Gideon Gatpan.
Bombs were dropped near the oil-producing state's capital Bentiu, as well as in the village of Mayom, some 60 kilometres (40 miles) to the west, he said.
"In Mayom... it killed seven civilians and wounded 14, two bombs fell inside the UN camp in Mayom and destroyed a generator and a radio," Gatpan said, adding that three people were also killed in villages around Bentiu.
UN peacekeeping mission spokesman Kouider Zerrouk confirmed the attack but said there were no casualties and it was unlikely the UN was targeted, as the Antonov aircraft used by Sudan are notoriously inaccurate.
Sudan's army spokesman was not answering telephone calls for a second day.
Aid workers said the fighting is worsening an already grim humanitarian situation.
In South Sudan's Yida refugee camp -- one of several along the border -- around 400 refugees are arriving every day, up from an average of 50 a day last week, the International Rescue Committee (IRC) aid agency said.
Those refugees are fleeing civil war and hunger in the Nuba mountains of Sudan's South Kordofan state, an area close to where Sudan and South Sudan have been fighting.
In South Kordofan, Sudan has for months been battling ethnic insurgents formerly allied with the rebels now ruling in South Sudan.
Nineteen South Sudanese soldiers have been killed since Tuesday, while 240 Sudanese troops have lost their lives, Juba's army said in figures impossible to verify.
"It's a war," a foreign diplomat said, but there is a logistical imbalance between the combatants since South Sudan has no warplanes, meaning "they are obliged to respond on the ground."
Questions are being raised in Khartoum over how easily Southern forces managed to seize Sudan's main oilfield, worsening an economy mired in crisis.
"This is something unacceptable," Samia Habani, a Khartoum MP, said in parliament.
The Sudanese military is already severely stretched, in the face of the major insurgency in South Kordofan, a smaller uprising in Blue Nile, and ongoing fighting in the war-ravaged Darfur region.
"How can you open three or four fronts at one time?" asked Al-Tayib Z. Al-Abdin, a professor at the University of Khartoum.
China said on Monday that South Sudan's President Salva Kiir will visit from April 23 to 28 for talks with Chinese President Hu Jintao.
Beijing is an ally of the Sudanese government and the largest buyer of South Sudan's oil. Last week it called on both sides to enact a ceasefire and return to the diplomacy table.
Other world powers have also called for restraint and voiced deep concern at the escalating violence.
Khartoum seeks the South's unconditional withdrawal from Heglig.
But Juba has said it will not pull back unless Khartoum removes its troops from the contested Abyei region nearby, among other conditions.