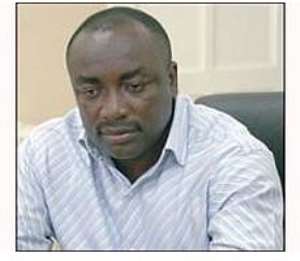 Former Press Secretary to the President, Kwabena Agyapong says president John Mills must demonstrate his commitment for a peaceful election 2012 by sacking his aide, Nii Lante Vanderpuye
Mr Agyapong said Nii Lante Vanderpuye has adopted tactics of intimidation to scare away New Patriotic Party supporters from registering, hence the incessant violence that has characterised the exercise in the constituency.
But Nii Lante has unequivocally denied the allegation describing it as baseless and unfounded.
Speaking on Asempa FM's Ekosii Sen programme Monday, on the violence that has rocked the ongoing biometric registration exercise in Odododiodoo which left some supporters of the opposition New Patriotic Party (NPP) with various degrees of injuries, Kwabena Agyapong said President Mills ought to demonstrate his clear commitment to peace by doing away with his aide.
Agyapong argued that the actions of the aspiring Parliamentary candidate for Odododiodoo constituency is an attestation of his [Nii Lante's] desperation to be in Parliament even if his party goes into opposition.
He noted the presidential aide is not a law unto himself hence must be called to order.
The NPP capo said they are tempted to believe what happened in Odododiodoo is a dress rehearsal of what the ruling National Democratic Congress (NDC)intends to do in its bid to retain power in December.
Kwabena Agyapong also challenged government to spell out the job description of Nii Lante as the Director of Operation at the presidency.
According to him, the Chief-of-Staff is officially in charge of all operations at the presidency hence can not fathom how another position would be created for the same job.
"The Chief-of-Staff of every government is in charge of Castle operations. I don't know what work Nii Lante Vanderpuye does or what his job schedule is" he added.
Kwabena Agyapong bemoaned the conduct of some presidential aides who according to him, are paid huge salaries and yet go round to foment trouble instead of working for the victory of their boss.