Gov't secures $1bn of $3bn CDB loan; Rest due April ending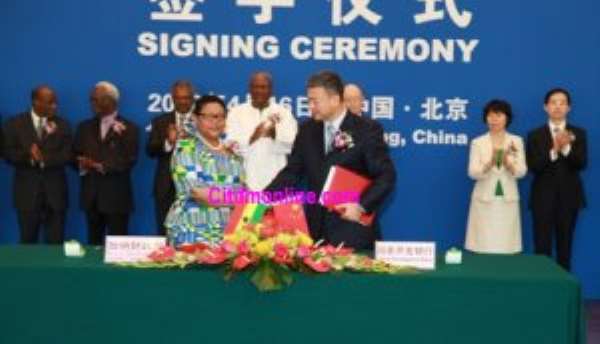 Vice President John Mahama (in white) witnessing the signing of the $3 billion China loan. The signing was done by Ghana's ambassador to China, Mrs. Helen Mamle Kofi and the Vice President of CDB, Mr. Yuan Li
The Government of Ghana has secured US$ 1 billion of the much-talked about US$ 3 billion China Development Bank (CDB) loan at a signing ceremony in China today.
Components (subsidiaries) of the $1 billion include the onshore and offshore pipeline as well as the gas processing plant all of which come under the Gas Infrastructure Project and the second component is the ICT platform for the surveillance of the Oil and Gas Infrastructure.
The two subsidiaries have been given Parliamentary approval and now that the funding has been secured works are likely to start soon. The total cost for the Gas Infrastructure Project is US$ 850 million and that of the ICT platform is the US$ 150 million both of which amount to US$1 billion – one-third of the total CDB loan.