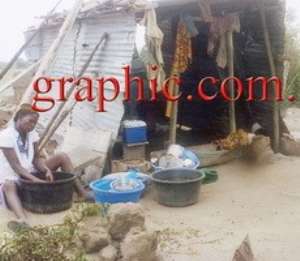 Over 1,000 residents of Joma, a fishing community near Weija in the Greater Accra Region, whose houses were demolished last year risk contracting diseases as a result of the fact that they do not have befitting places to stay.
Since the demolition exercise, which saw more than 600 structures pulled down, the residents have slept in the open, at the mercy of the weather, insects and animals and in deplorable conditions.
With the rainy season a month or so away, the outbreak of diseases is very likely if they continue to live under the present conditions.
During a visit to the area by the Daily Graphic on Saturday, some of the residents were seen to have erected wooden structures and canopies, while others, particularly the fishermen, were using their fishing boats as places of abode.
Some also used palm fronds as mattresses.
According to a fisherman, Mr Joseph Robuia, the demolition had brought economic activities in the community to a halt and made life difficult for the people.
He said thieves had taken advantage of their predicament and stolen what remained of their property on many occasions.
Some schoolchildren of the community, traumatised by the demolition exercise had dropped out of school while others, realising that the demolition had brought about economic hardships, had offered to assist their parents in economic activities, instead of staying in school, he added.
Some women complained of being raped, while others claimed their children had been defiled at night by some unknown persons.
Mr Fred Ansah, another resident, said to make matters worse, the National Disaster Management Organisation (NADMO) had demanded that the tents and mattresses donated to the residents by the organisation after the demolition be returned to NADMO.
He said NADMO officials had been to the community several times to demand the items, adding that residents had pleaded for more time to enable them to acquire their own mattresses and tents.
He explained that as a result of the demolition, the people had lost all their property and belongings worth millions of cedis and reiterated the claim that they had not been given any notice prior to the demolition.
Mr Ansah said if the rainy season set in it could worsen their plight.
Mr Richard Amebor, a fisherman, appealed to the government to demarcate the land and state clearly what the boundaries were.
He said residents were prepared to assist in the planting of trees along the banks of the Weija Dam to protect it from any danger during floods.
On December 10 and 11, 2011, an estimated 600 structures were demolished at Joma, rendering about 2,000 residents homeless. The structures included the palace of the Joma chief, Nii Ayitey Noyaatse, the community church and school.
A security report had revealed that those structures were close to the Weija Dam and threatened the future of the dam.
Residents claimed that they had permits issued to them by the relevant city authorities and, therefore, they did not consider their structures illegal.