Nigeria's Taiwo keen to make Premier League mark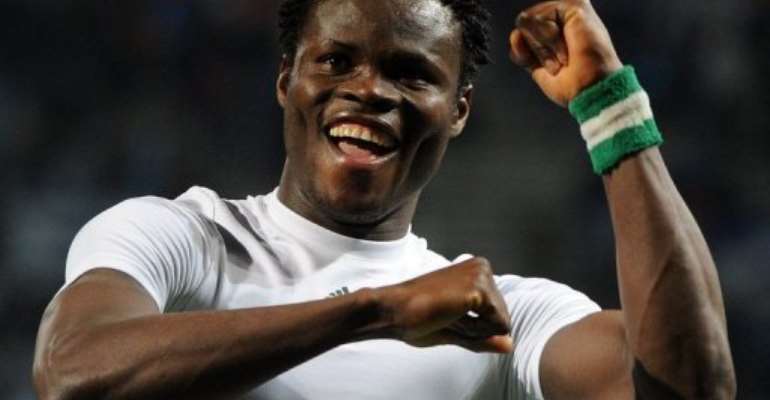 LONDON (AFP) - Taye Taiwo may be fighting an uphill battle to keep Queens Park Rangers in the Premier League but that has not dampened his desire to join the list of Nigerians to win England's biggest honours.
Taiwo, who celebrates his 27th birthday on Monday, was just starting his career when African legend Nwankwo Kanu was lifting the league and FA Cup double with Arsenal in 2002.
The left back has also witnessed international teammate Jon Obi-Mikel win a succession of honours with Chelsea and play in a Champions League final.
Even striker Ayegbeni Yakubu can point to a League Cup winners' medal from his days at Middlesbrough and Taiwo is confident he can add to the impressive list of silverware won by Super Eagles stars.
Former AC Milan and Marseille left back Taiwo said: "It is easier for Nigerian players because you don't need to learn the language unlike when you go to Italy or Spain.
"All The big players we have like Jay Jay Okocha, Kanu, Yakubu, Peter Odemwingie and Jon Obi-Mikel have done well in England.
"When I left Marseille to go to Milan we won the Super Cup. It is a joy if you win because when you go out in the city people shout your name.
"I am really happy for people like Kanu and Mikel, who won the FA Cup because when you win titles in your career that is what people will write about in the future."
Taiwo's future, like that of Rangers', remains unclear.
His loan spell from Milan expires at the end of the season and if the London club do not win their fight against relegation the Lagos-born left back will be looking for his fourth club in little over a year.
Taiwo has already seen enough to suggest his all-action style can help him carve a long-term future in the Premier League.
"In England maybe you have to wait for six months to adapt to the Premier League," he says.
"The Premier League is like basketball. You keep moving forward and back and that is why it is the top league in the world.
"I am very happy to be here with the team and players. They have really welcomed me.
"I am here to work very hard, to make us get good things. It will be lovely if we can stay up.
"All Africans watch the Premier League and in Nigeria you see fans of Arsenal, Manchester United, Man City and Chelsea."
Taiwo's struggles with QPR replicate those of his national team. Nigeria followed a disappointing showing at the 2010 World Cup in South Africa by failing even to qualify for the African Nations Cup.
Taiwo is confident recently appointed coach Stephen Keshi can reverse that slump in fortunes.
He added: "The problem with the national team is the manager keeps changing all the time. If you want to win something you will not get anywhere like this.
"All the managers are going to bring in their own set of people and new tactics all the time.
"It was really sad we did not qualify for the African Nations Cup because Nigeria is a very big country.
"The manager we have now is very clever. He is always talking and always aggressive because he does not like to lose.
"We are looking forward to qualifying for the next African Nations Cup. That is our focus."