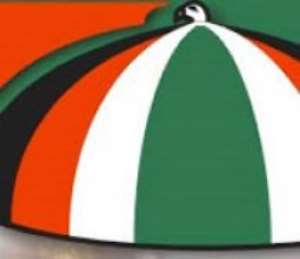 The Greater Accra Regional Chairman of the National Democratic Congress (NDC), Mr Kobina Ade Coker, has called on the Electoral Commission (EC) to come clear regarding the meaning of the term "ordinary resident" of a polling area.
In his view, "people living in kiosks or traders and workers at polling areas could not register at such areas because they were not ordinary residents.
The regional chairman of the party was addressing a press conference in Accra Friday regarding the recent violent incidents in the Greater Accra, especially at the Odododiodio and Korley Klottey constituencies.
To buttress his case, he cited the cases of people living in other parts of the region but working and trading in Odododiodio constituency as people who could not claim to be ordinary resident of the constituency.
He wanted to ascertain whether these people who wanted to register at Odododiodio truely resided there. The regional executive of the NDC undertook a tour of some of the areas including Katamanto, Okaishie and other trading areas during the Easter Holidays.
He explained that these places were virtually empty during the Easter festivities, indicating that most of the people who undertake their trade there were no ordinary residents and therefore could not register and take part in the decision to select a member of parliament for the area.
Mr Ade Coker noted that "those living in kiosks do not have addresses and when floods come, their kiosks would be washed away".
He also called for a probe into the arrest, molestation and verbal abuse of the former Greater Accra Regional Minister who is also the Member of Parliament for Korley Klottey, Nii Armah Ashietey, by the Commander of the Police Motto Traffic and Transport Unit, ACP A. Awuni.
He said although the registration centre in question was not supposed to be cited at where it was (that was what the MP was advising against), Mr Awuni caused his arrest and in the presence of some leading members of the NDC. They verbally assaulted the MP.
"Mr Awuni must be removed from Accra. We can't work with him," Mr Ade Coker added.
Describing the alleged attacks on Ms Ursula Owusu, the NPP Parliamentary Aspirant for Ablekuma South and some NPP members, he explained that the NPP leaders were attacked because they insulted Gas for selling their lands, shops and houses.
"It is regrettable that she was manhandled, but people must not abuse others. Also, non-accredited persons cannot be moving to various registration centres," he added.
source: graphic.com.gh