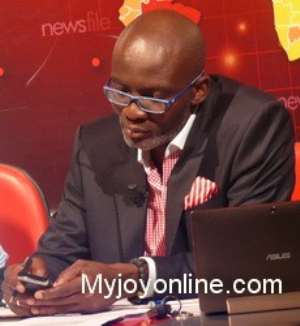 President John Evans Atta Mills has had a tremendous opportunity to have an unprecedented impact on the lives of Ghanaians because he has had more resources than any other government in the history of this nation to perform but has failed to achieve that, says Gabby Asare Otchere Darko, Executive Director of the Danquah Institute.
According to him, the Mills-administration inherited an economy with more resources that should have propelled him to institute life-changing projects to the benefit of the populace.
Gabby said within four years of governance, the Mills-administration has been able to borrow nominally "than all the Ghana governments put together since the first republic…"especially with the oil resource.
But "What have they done with the resource(s)?" he quizzed.
Mr Otcere Darko was speaking on Joy FM's Newsfile Saturday which was also shown on the Joy New channel of Multi TV examining the contents of the NDC's Green Book which outlines achievements chalked by government so far.
Among other things, the book states that Ghana has experienced the highest growth rate under the reign of President Mills but Gabby maintained that "It's of no particular, specific initiative of the government that has led to this" success and added that even targets that government set for itself could not be met.
Gabby continued that half of what contributed to the growth rate was from oil proceeds which he said was handed over to the government by the Kufuor administration. "…The blessings and the resources have been available," he repeated, saying what makes the difference is "what you do with them."
Instead of using the resources to improve the lot of Ghanaians, Gabby said the NDC government rather inflated contracts of many projects and that is why, according to him "more money is chasing fewer achievements."
However Deputy Interior Minister Cobby Agyeampong, reacting to Gabby's submission, said the Danquah Institute boss has accentuated what he called the lack of contextual intelligence.
According to him, the NPP's argument that the Mills government has had more resources makes no sense. He explained that every government since the first republic has a budget stating its resources and how to spend it.
Secondly, he said, every government has period of four years and that the mandate of the NDC government is to deliver according to its promises to the people.
Cobby insisted the NDC has done just that.