Good Luck To BECE Candidates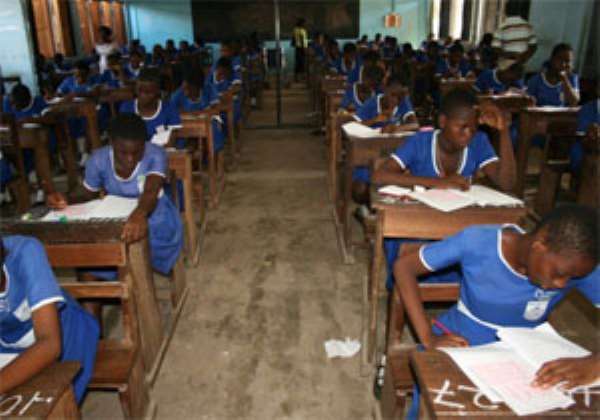 Student writing their B.E.CE. exams
On Monday, Ghanaian children will begin writing their first public examination, the Basic Education Certificate Examinations (BECE) to qualify them for entry into Senior High Schools across the country.
It has not been an easy task for the children, who in their teens, have put in so much work in preparation for the examination, sometimes studying late into the night.
The week-long examinations, apart from being stressful for the kids, can also be exciting for some of them, a period during which we must be supportive of them.
The journey from nursery to JSS 3 has been a long and arduous one, putting pressure on both pupils and parents.
At the nursery level, where it all started with teachers laying the foundation for the kids' future education, parents put in all their hearts into the critical stage of their early childhood development.
We are thankful to God in the first place, teachers and all other stakeholders whose support has made this period possible.
From Monday, the kids will be tested on what they have learnt since their days in kindergarten to date. It is our belief that given the work their teachers have tirelessly put in, they would come out with flying colours.
We pray parents and guardians are mindful of the condition of the children as they walk into the examination halls. We do not have to scare them about examinations because this could impact negatively on them. The best we can do is to let them know that all they are going to do is answer questions as they have always done at school in a relaxed manner.
Their anxiety should be managed this way because it is important that they do not get jittery in the examination hall so that they can put up their best.
Examinations are not punishments but a means of finding out how much they learnt at school and this we must ensure the children have at the back of their heads.
It is our belief that when such situations are managed well, the children will enter the examinations hall with all the needed confidence to come out with the desired results.
We should also ensure they get adequate sleep because of the temptation to study deep into the night, so that they wake up in the morning freshened up.
In the course of the examinations, it would be in the best interest of the kids to be excused from most domestic chores so that they would have adequate time to revise their notes ahead of the next paper.
From the bottom of our hearts, we wish the BECE candidates success.