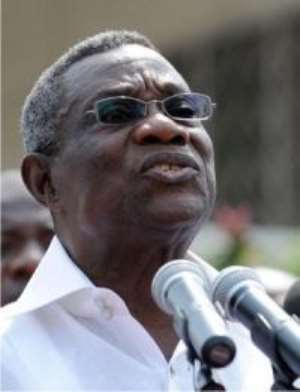 Information available to the New Statesman indicates that President Mills will on Wednesday, April 25, 2012 leave the country, yet again, for the United States of America for an unspecified period of time.
 
The purpose of this trip, unlike others he has taken to the big apple, has not been given by the Castle, leaving many speculating and wondering why the President of the land is always keen to visit the US, given the least opportunity.
This latest trip comes on the back of at least four trips he has made to the US in the last six months alone, the last being a visit to the White House on the March 8, where he met President Barack Obama.
 
It is recalled that President Mills' first trip to the US, within this last six months, was on Saturday, November 12, 2011, culminating in an official visit to Canada as well as taking his annual leave.
 
A statement issued by his Communications Director and Presidential Spokesman, Koku Anyidoho, prior to his vacation, indicated that the President would spend one week in Canada and another week in the United States of America, after which he would take a two-week annual leave.
 
But 24 or so days after he left, little was heard about the activities of the President except claims of a supposed meeting between him and United Nations Secretary General, Ban Ki Moon on Friday, December 2, 2011 and its accompanying pictures.
 
The USA branch of the New Patriotic Party claimed at the time that on December 15, 2011 between the hours of 8:30 and noon, President John Evans Atta Mills was seen in the company of four Caucasian security operatives on the 4th floor of the world famous Memorial Sloan Kettering Hospital, "the world's oldest and largest private cancer center" located in New York.
 
On December 17, 2011, the president returned from his month-long "working vacation" and boldly stated on arrival that his trip to the United States "was not to seek medical attention," and that he worked on the quiet "brokering catalytic deals to accelerate the national development agenda."
 
Exactly one week after his return to Ghana, the President rushed back to the United States under the pretext of meeting investors on Christmas eve.
 
According to the NPP-USA, the President rushed to the USA to attend to a very highly prioritized personal issue of which he tried to conceal from Ghanaians.
 
"In their desperate attempt to cover up President Mills' cancer treatment in the USA, his handlers have spun lies that border on the ridiculous. On his arrival in Ghana on December 31, the President is reported to have stated as follows 'In the US the 26th is not a holiday; it is rather the 25th, so I used those days ………to accomplish all the assignments that I had in mind'", the NPP-USA statement   added.