Sudan, S. Sudan leaders accuse each other of wanting war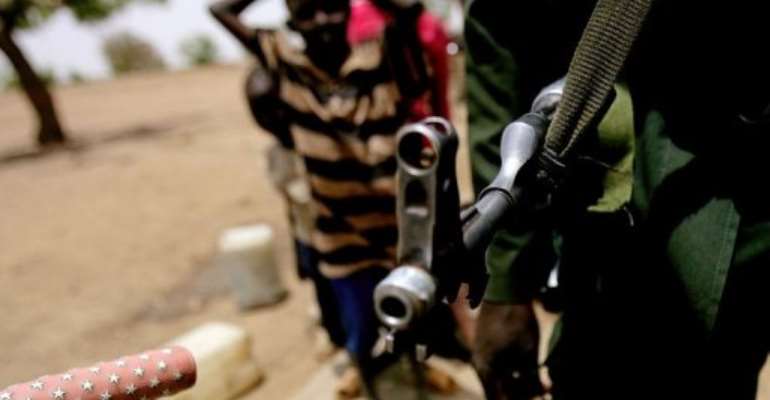 KHARTOUM, Sudan (AFP) - The leaders of Sudan and South Sudan accused each other on Thursday of wanting war, with each denying the other's charge, as Sudanese war planes bombed a bridge in the South after days of fighting in a contested border region.
The heavy clashes, the worst since South Sudan won independence in July after one of Africa's longest civil wars, have brought the two former foes the closest to a return to outright war.
The fighting started on Tuesday, when Southern troops captured the strategic northern oil-producing district of Heglig, responsible for about half of the country's crude output, triggering a halt to all production.
On Thursday, Sudanese bombers targeted a strategic South Sudanese bridge on the edge of Bentiu, the capital of the oil-producing Unity border state and some 60 kilometres (40 miles) from where the fighting has been raging.
Sudan denied carrying out the air raid.
"The population is staying in their places; when the planes come they lie down," said Gideon Gatpan, Unity information minister, adding that one person was killed.
In a speech to parliament, President Salva Kiir said his northern counterpart, Omar al-Bashir, "has announced a total war with the the Republic of South Sudan."
"I always say we will not take the people of South Sudan back to war, but if we are being aggressed like this we will have to defend ourselves.
"I am appealing to the citizens of the Republic of Sudan, especially the mothers, not to allow their children to be dragged into a meaningless war," he added.
"I will not order the forces to withdraw from Heglig," Kiir told parliament, despite calls by the African Union and United Nations to pull out from the region seized from Khartoum's army earlier this week.
Information Minister Barnaba Marial Benjamin told AFP that certain conditions must be met for a troop withdrawal.
"Firstly, all ground and air assaults by Sudan must end immediately," Benjamin said, also calling for a Sudanese troop pullout from Abyei, another contested region, which is near Heglig and was seized by Khartoum last year.
Once that pullout is complete, "international monitors" would then have to ensure a demilitarised zone, he said.
When South Sudan became independent last July, it took with it about 75 percent of oil production.
Ahmed Haroun, governor of South Kordofan state, where Heglig is located, said on Thursday that "the production now has stopped" since the attack on Tuesday.
Haroun, who is wanted by the International Criminal Court for suspected war crimes in Sudan's Darfur region, added without elaborating: "Our army (is) dealing with the situation. We hope we can finish that operation in hours."
International arbitrators ruled about four years ago that Heglig was not part of the disputed Abyei region, a decision the south agreed with although it did not concede that Heglig was therefore northern.
Kiir also threatened to send troops into Abyei -- occupied by Khartoum and patrolled by UN peacekeepers -- if Sudan does not withdraw from there.
He told lawmakers to a standing ovation that he had told UN chief Ban Ki-moon in a telephone call Wednesday that "if you are not moving these forces of Bashir out of Abyei, we are going to reconsider our position and we are going to head to Abyei."
In Khartoum, Bashir said "our brothers in South Sudan have chosen the path of war, implementing plans dictated by foreign parties who supported them during the civil war.
"War is not in the interest of either South Sudan or Sudan but, unfortunately, our brothers in the South are thinking neither of the interests of Sudan or of South Sudan," he told reporters.
This week's clashes follow border fighting that erupted last month between the neighbours, and which each side has blamed the other for starting.
The unrest has prompted Khartoum to pull out of AU-led crisis talks aimed at resolving the protracted dispute with Juba over oil, border demarcation, contested areas and citizenship issues.
Khartoum has vowed to react with "all means" against a three-pronged attack it said South Sudanese forces had launched against South Kordofan.
On Wednesday, parliaments in both countries urged their respective citizens to take up defences, a call repeated by Kiir on Thursday.
"If the youth have guns, let them keep these guns ... When we call them back those who do not have (guns), they will be supplied."
World powers, including the African Union, United Nations, United States and China, has called for restraint and voiced deep concern at the escalation of violence.
Ban urged Kiir to meet with Bashir, while the US State Department urged both sides to end "all hostilities".
European Union foreign policy chief Catherine Ashton said South Sudan's capture of Heglig was "completely unacceptable. So is continued aerial bombardment of South Sudanese territory by the Sudan Armed Forces."
Hundreds of thousands of citizens of each nation living in the territory of the other country are also facing uncertain futures after a deadline requiring them to formalise their status expired at the weekend.